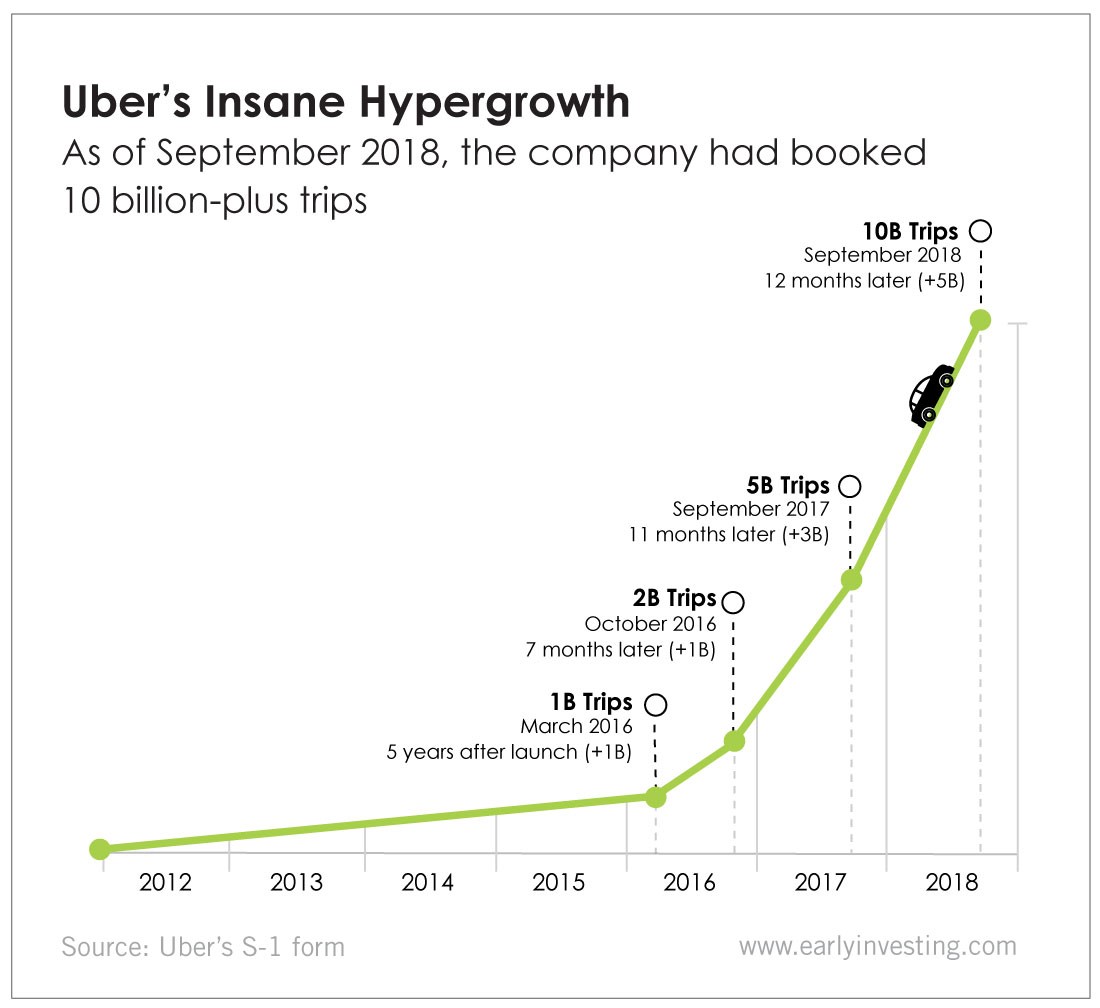 Uber, which is launching one of the most highly anticipated IPOs of 2019, released its S-1 form about a week and a half ago. Today we're going to dig into some highlights.
Let's start with today's chart, which is by far the most impressive-looking chart in the 200-plus page form.
Uber booked more than 10 billion rides as of September 2018. That, by itself, is an impressive number. But the rate of growth is even crazier. Uber booked 5 billion rides in its first six years, then another 5 billion just 12 months later. It's the definition of hypergrowth.
But that's not all we found in the S-1. Let's look at some other facts…
In 2018, 24% of Uber's bookings came from five major cities.
Nearly a quarter of Uber's trips last year were concentrated in New York, Los Angeles, San Francisco, London and São Paulo. Given that the company operates in more than 700 cities worldwide, this seems to reflect a real vulnerability for Uber.
And even in its top cities, the company has run into some regulatory problems. Last August, the New York City Council voted to cap the number of new for-hire delivery and transport vehicles on its streets – a blow to Uber and other ride-hailing companies. San Francisco says that at peak morning and afternoon commutes, Uber and Lyft account for 50% of the congestion in downtown San Francisco. City officials are voicing frustration because local governments have no control over Uber and Lyft. The state of California does – and city officials want that to change.
In 2018, 15% of Uber's bookings were airport-related.
Another potentially troubling fact: 15% of Uber's bookings in 2018 either started or ended at airports. Uber expects that number to increase in the future, which leaves it vulnerable to airport regulations. The company addressed this in the S-1:
As a result of this concentration, our operating results are susceptible to existing regulations and regulatory changes that impact the ability of drivers using our platform to provide trips to and from airports. Certain airports currently regulate ride-sharing within airport boundaries, including by mandating that ride-sharing service providers obtain airport-specific licenses, and some airports, particularly those outside the United States, have banned ride-sharing operations altogether.
The company said that despite such bans, some Uber drivers continue operating, putting the company at risk for fines or sanctions.
More than 60,000 drivers have filed arbitration demands against Uber based on independent contractor misclassification, among other claims.
In highlighting the benefits for its drivers, Uber has always touted its service's freedom and flexibility. Drivers can "be their own boss." And so it classifies its drivers as independent contractors. This means drivers have the flexibility to work when they want. But it also means they don't get paid time off or benefits.
This independent contractor model is important for Uber's bottom line. According to the S-1, "Our business would be adversely affected if Drivers were classified as employees instead of independent contractors."
More than 60,000 drivers have taken legal action against the company to dispute that classification. A few months ago, the company lost an appeal of a UK ruling that found a group of drivers to be employees. And last month, both Uber and Lyft drivers went on strike to protest Uber's decision to reduce the per-mile pay of its drivers by 25% in parts of California (where it gets a large chunk of its business).
What's next?
Uber is set to IPO sometime this year, likely within the next month. Its competitor, Lyft, IPO'd at the end of March with a valuation of about $24 billion. Uber's valuation will be much higher – potentially $100 billion.
The company is looking toward several different areas for future growth, including autonomous technology. It's also made substantial investments in dockless e-bikes and e-scooters, freight technology, and air transport. Investing in these new technologies is a key part of its growth strategy.
As Adam Sharp has pointed out, automated transportation isn't here yet, but it's not far off. And with Uber's reputation as a major disruptor, it's in a good position to lead that charge.
But it will probably have to address some of its vulnerabilities first.