For the past few decades, Silicon Valley has dominated the world of venture capital. According to Pitchbook, Silicon Valley accounted for a whopping 26% of all VC dealmaking in 2014. Even more impressive, more than 39% of all dollars invested into VC-backed startups happened in the Silicon Valley area.
However, Silicon Valley's dominance has been declining for a while. According to Pitchbook data, via CNBC, Silicon Valley's share of venture capital has been declining since 2014.
But since the pandemic began last year, that trend has accelerated dramatically. Pitchbook now predicts that Silicon Valley's share of VC deals will soon drop below 20% for the first time in history. 
Prominent venture capitalist Jason Lemkin recently summed the situation up in a tweet.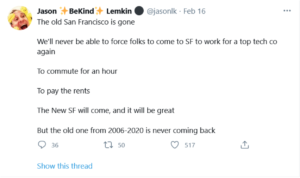 Lemkin knows what he's talking about. He's deeply entrenched in California's tech scene as one of the world's top Software-as-a-Service investors.
The Tech Diaspora
The world of tech investing is changing. Soon, Silicon Valley will no longer be such a dominant force in the world of startup investing. Back in August of last year, I wrote a piece titled "Tech Companies Flee California (Finally)." Here's a relevant excerpt.
For California and the SFBA, this trend should be quite disturbing in the short-term. But for the rest of us, things are looking up. Companies are spreading out across the country, and the benefits — especially to business-friendly states like Texas — will be significant. 
Ultimately, this will be good for California too. They'll be forced to make the state more attractive to businesses. Maybe even lower taxes and slim down their bloated budgets (California is looking at a $54 billion budget deficit this year). 
I believe the groups that will benefit most of all are entrepreneurs and startup investors. As big technology companies spread out across the U.S., more innovative startups will also sprout up all over the country. Wealth, skills and experience will become more evenly distributed.
Venture capitalists will be forced to invest much more outside the SFBA. Angel investor communities will sprout up everywhere in response. And equity crowdfunding will play an increasingly important role in funding early-stage companies. 
This is going to be an incredibly powerful trend. The primary effect will be a more even distribution of wealth across the country (and the world).
And the timing couldn't be better for startup investors. On March 15th, new regulations will go into effect that increase the limit on most equity crowdfunding deals from $1.07 million to $5 million. This will attract far more mature and established startups, which anyone will be able to invest in.
My advice: start saving up cash if you have the means. There will be some truly impressive opportunities for retail startup investors in the very near future. Keep a close eye on startup funding portals, because I suspect some of these new $5M deals will sell out very quickly. Equity crowdfunding is on the verge of a revolutionary change.