From Andy's Desk: I recently had the pleasure of sitting across the table from Nic China, a young founder of a Baltimore startup called Pixilated. Nic has a surprisingly mature business outlook. And thankfully for us, he's agreed to share his journey as founder and leader of a company that aims to reinvent experience-related marketing services using photo campaigns.
The Q&A below is actually a distillation of three sit-downs I've had with Nic – all very enjoyable.
---
Andy: Hi, Nic. Thanks for meeting me here for a cup of coffee. I must say, I can't complain about the convenience. You're about five minutes away from home and so am I. That doesn't often happen.
Nic: No, it doesn't. When the founder of Arbit suggested I reach out to you, he didn't mention you were local.
Andy: So you founded a photo booth company. To be frank, my first reaction was, in the age of selfies, this is like shipping coal to Newcastle.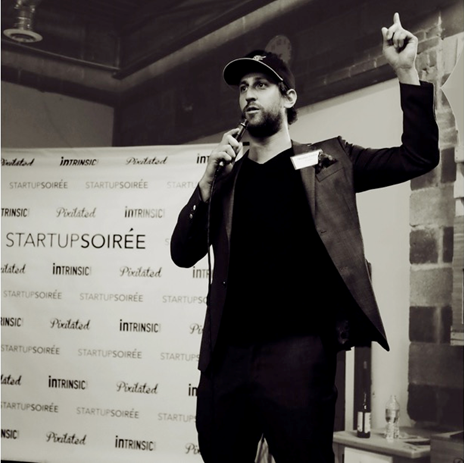 Nic: I'm glad you're bringing this up. Perhaps a better way of looking at it is, in the age of social media, people love to be in pictures, right? Picture-taking has never been more popular. And people have never been more receptive to having their pictures taken.
Yet companies haven't taken advantage of this. It's a big but mostly untapped way to connect with customers.
The market is quite big. And we think we have the right tools and strategy to help companies capture leads through photo-based experiential marketing campaigns.
Andy: Okay, how big is the market you're going after?
Nic: About $350 billion in 2017.
Andy: That's bigger than I thought. So who are the customers you're going after?
Nic: Companies that go out into the community and do a lot of special events. Under Armour is a great example. The company is right here in Baltimore, and it sponsors a ton of sports-related events. Under Armour really likes us… and plans to use us more.
We're also excited about what we're doing with Rogers Communications. It has dozens of radio stations throughout Canada that sponsor a ton of events. We think our services are a great fit for it.
We have 40 customers in all. Their feedback has been key in helping us refine our product and pricing strategies. We think we have the model pretty much nailed down now.
Andy: Well, let's get a little more into the process of how a young company develops a product, sales strategy and growth plan – in other words, the overall business model.
Nic: Well, I have to admit, it certainly hasn't been methodical. We started as a photo booth event-driven business. Lots of hardware, little software. Charged our customers per event. Given the built-in constraints of the model, it did well. But it was a one-product-fits-all photo service with very little repeat business (how often do people get married?).
So we decided to make our booth "smart" and link it to the cloud. That way, users could find pictures of themselves and their friends, share them, make comments and use different wraps and photo filters.
At this point, we were thinking more of the user's experience and less how to leverage these photos. A key decision was to focus on companies and extending their marketing reach through our photo-taking services.
Andy: And that has brought you to the present?
Nic: Not quite. We made another major shift – very recently, in fact. We're phasing out the hardware portion of our services – meaning the camera, tablet and its housing. By the end of next year, we'll be completely out of the hardware game.
Andy: What brought that decision on?
Nic: We really want to scale, to bring on literally thousands of customers. It's not that we couldn't do the hardware. But it would have been a major challenge and possibly a drag on our growth. What's more, it would have lowered margins.
We've streamlined our services to software only and minimized our costs. Our focus is where it should be: on marketing, not manufacturing.
Andy: When you began Pixilated, did you think it was going to be this hard?
Nic: You know, I worked for my dad's construction company for five years. I managed projects. I supervised crews. It was hard work. But I learned a lot. I learned how to make and keep schedules, how supply chains work and how to manage costs. These are skills I use every day now. I'm very happy about where the company is at this point.
It hasn't been all smooth sailing, but we're now on the doorstep of increasing revenue from what I expect to be around $1.5 million this year to more than $6 million in 2020.
Andy: And you're raising on MicroVentures right now, correct?
Nic: That's correct. We hope to raise about $100,000. And the valuation is extremely reasonable. We put it at $3 million, a little low given our progress to date, but we wanted to make sure investors got in at an attractive price.
Andy: MicroVentures is a portal we know very well. You're in good hands.
Nic: We think so too. We have about a dozen days left of our raise. And the minimum investment is $100. Your readers can check us out on MicroVentures, if they want.
Andy: Thanks, Nic, for giving us some insight into your company and giving us an honest account of some of the challenges a founder faces in getting a startup past the beta stage and into the growth stage.
Nic: Thank you, Andy.