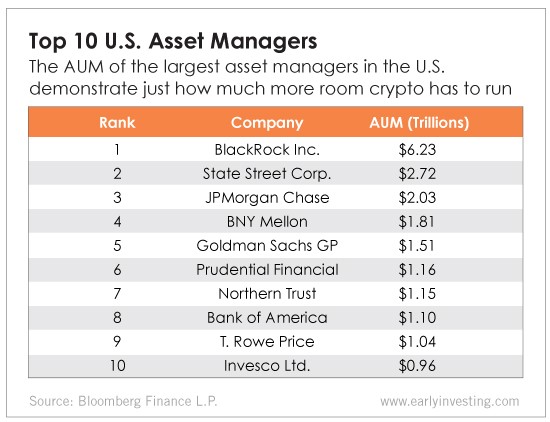 We've been talking about institutional crypto investing a lot lately.
We already mentioned that there are more than 400 crypto funds out there and more than $7 billion in crypto funds poised to enter the market. And we know that compared with the number of traditional hedge funds, the number of crypto funds is miniscule. Crypto fund investing is just beginning to scratch the surface of its potential.
Today's chart shows just how much room it has to grow.
The Early Investing research team did some digging and found that assets under management (AUM) at the 10 largest American asset managers range from just under $1 trillion to more than $6 trillion. BlackRock, State Street and JPMorgan take the top three spots, with $6 trillion, $3 trillion and $2 trillion AUM, respectively. Altogether, the top 50 asset managers in the U.S. manage a combined $30.7 trillion.
Now imagine if just 1% ($307 billion) of that was moved into crypto. That's more than double the market cap of bitcoin. It's about $100 billion more than the total market cap of the entire crypto market. And 1% is an extremely conservative estimate of the amount we expect to be shifted into crypto (3% to 5% is more realistic).
I'd say there's room for crypto to run here.
Luckily, the infrastructure for institutional investors to enter the crypto market is being created as we speak. As Adam pointed out earlier this month:
Secure, regulated custody of crypto for institutional investors is one of the final hurdles we have to clear before crypto can truly go mainstream. Professional investors won't enter the market without it. This is being built out right now by passionate entrepreneurs and savvy investors.
It's being built out in platforms like Bakkt, created by Intercontinental Exchange (the parent company of the New York Stock Exchange), which serves as an on-ramp for institutional investors. It's being built out in companies like SFOX, which has raised $23 million in pursuit of making crypto trades faster, cheaper and quieter for institutional investors.
And, of course, every individual crypto investor – including you and me – is helping pave the way simply by participating in the market. If you're not in the market yet, don't stay on the sidelines. This institutional boom is coming soon.