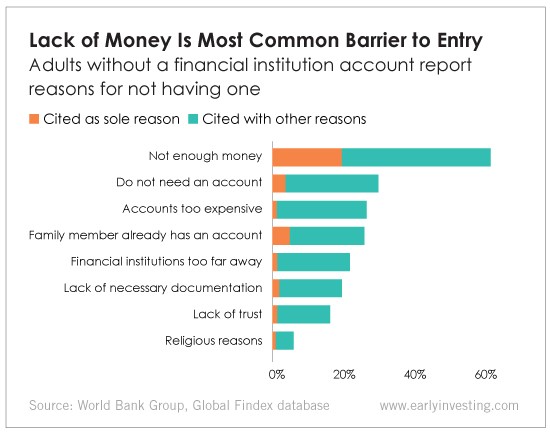 A few weeks ago, a friend of mine was telling me about someone he was helping out. Jake told me his friend Kate had been unexpectedly evicted from her apartment, so he offered his spare bedroom as a place for her to stay while she got back on her feet.
But when the first of the month rolled around, Kate couldn't make the rent. When she did pay, she didn't have enough to pay it all at once. And what made things even more difficult was her lack of a bank account.
She would sell her artwork online and have customers send money to a friend's PayPal account. When her friend received the money, it would then have to be transferred to her boyfriend's account.
I couldn't believe the convoluted process she had to go through to get paid. "She doesn't have a bank account? How could she have made it this far without one?" I asked incredulously.
Of course, the reality is that not everyone's reality is the same.
In fact, the "unbanked" population – those who aren't served by a bank or similar financial institution – is quite sizable globally.
The World Bank Group's Global Findex Database 2017 report found that 31% of adults across the world are unbanked. The most commonly cited reason for being unbanked was not having enough money.
Banks come with multiple (often hidden) fees: account maintenance fees, minimum balance fees, overdraft fees, ATM fees – the list goes on. It's no wonder someone with a lighter wallet can't enter the banked economy. It's an impossible cycle. You can't afford to pay a bunch of fees if you're being charged for not having enough money.
Enter cryptocurrency. For the unbanked, crypto can be a godsend. Take bitcoin, for example. As long as you have a smartphone or laptop and internet access (and the unbanked are much more likely to have these), you can start using bitcoin. Bitcoin transaction fees vary, but they're generally cheaper than banks. The network is secure and is constantly being updated and improved. And the Lightning Network will be accelerating the crypto's transaction speed.
For investors, crypto offers a more efficient alternative to big banks – and the opportunity to capitalize on a growing monetary revolution.
But for the unbanked, crypto has the potential to be the great equalizer. It provides access to a payment and wealth-building system that they can't access with banks. This lifeline is part of what makes crypto one of the most important technological advances of this century.