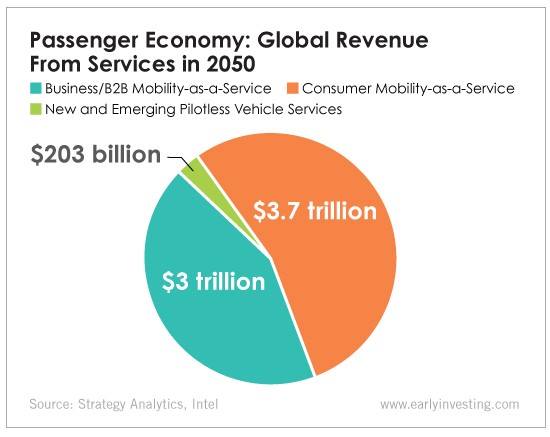 Can you imagine a world full of driverless cars?
With the help of blockchain startups, that future is inching closer to becoming a reality.
According to Intel, autonomous driving technology will enable a new "passenger economy" that will be worth $7 trillion (that's approximately twice as big as Germany's GDP) by 2050. Mobility as a service will outpace car ownership, and autonomous vehicles will spread into commercial spaces like package delivery and long-haul transportation.
Cryptocurrency and blockchain companies are at the forefront of this new economy. They're already partnering with car companies all over the world.
Berlin-based startup XAIN has been working with Porsche to develop blockchain automotive apps since February. Porsche said possible applications for the technology include locking and unlocking car doors via apps, as well as improving autonomous driving functions.
Earlier this month, IOTA and Volkswagen demonstrated a proof of concept for an autonomous car system. Volkswagen intends to use IOTA's Tangle blockchain architecture to securely and wirelessly distribute data. As of this writing, IOTA's cryptocurrency (IOTA) has a market cap of $2.8 billion, according to CoinMarketCap. That makes it the ninth-largest altcoin (in terms of market capitalization).
And BMW is working with U.K.-based Circulor to track ethically sourced cobalt supplies. Circulor's CEO, Douglas Johnson-Poensgen, said blockchain tech is BMW's ticket to guaranteeing a sustainable supply chain.
Startups that integrate into the automotive supply chain can carve a solid path to success.
The auto industry (globally) spends about $109 billion annually on research and development. In Roland Berger's 2018 Global Automotive Supplier Study, the consulting firm found auto suppliers will need to invest money and resources into emerging technologies, as cars will depend increasingly on software:
As vehicle software becomes the main differentiator, suppliers need to build up the necessary competencies to ensure future competitiveness.
Tech startups have a wide-open door here. Robert Bosch GmbH, a top-ranked Tier 1 supplier, sold $46.5 billion worth of auto parts in 2016. That's more than twice the GDP of Iceland. Magna International sold $36.5 billion the same year. Both companies work on autonomous vehicle technology (among other things). Startups that work with these types of suppliers can tap into a huge market.
We're keeping an eye on this space. And we'll let our members know if we find any promising auto-focused startup recommendations in our First Stage Investor service.