Bitcoin is up 13.8% in the last 24 hours as I write. Most coins in the top 100 (by market capitalization) have gone up between 5% and 15% during this period.
And nobody knows exactly why.
Some people thought it was an April Fools' joke, including Fortune senior writer Jen Wieczner, who tweeted this…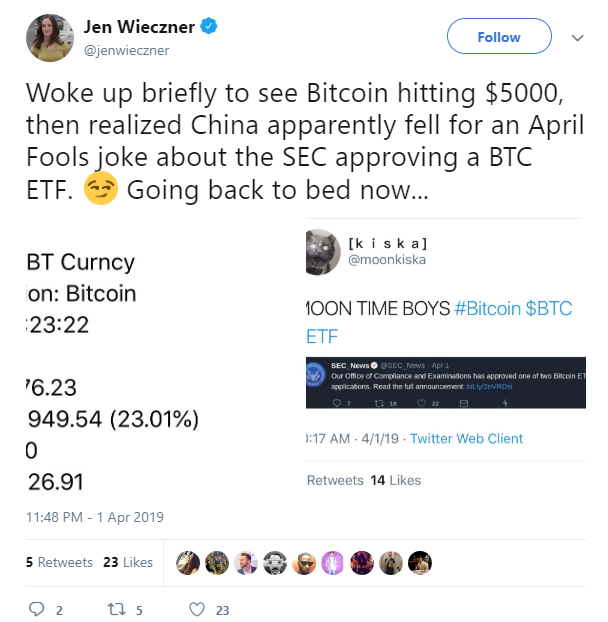 But it wasn't an April Fools' joke.
Some think it was technical, meaning that bitcoin's price chart was building up pressure for a jump in price. Widely followed economist Alex Krüger tweeted back in February…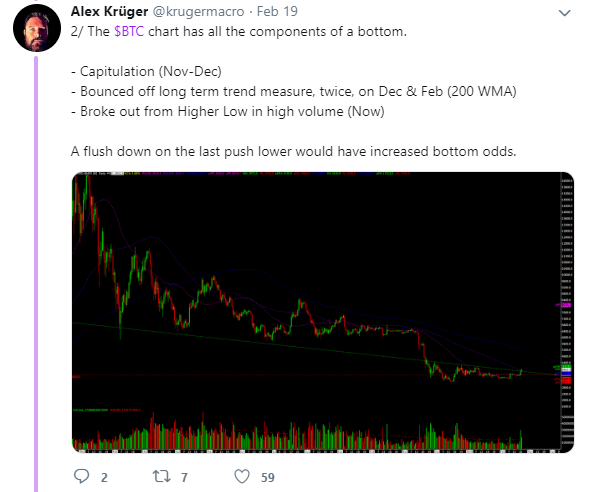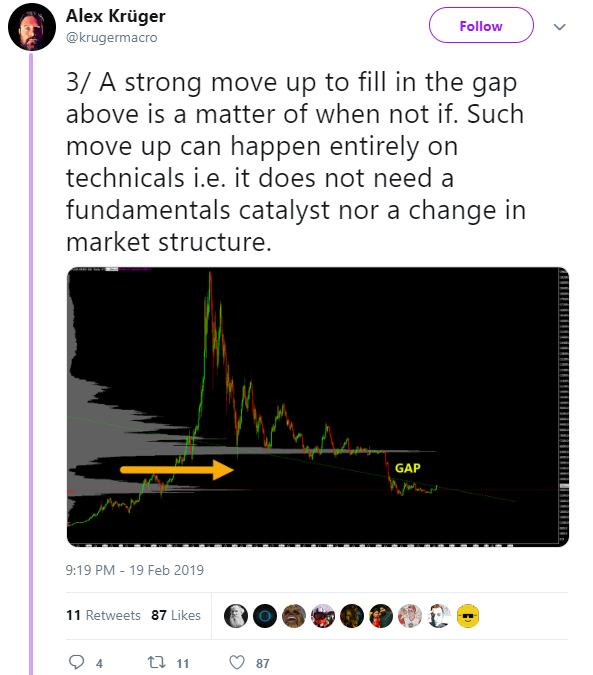 Not so fast, Krüger. Bitcoin could have continued to trade in its narrow channel or even dipped below $3,400 as it did in January and February. Instead, it spiked. I strongly disagree that it doesn't need fundamentals to do so.
Fundamentals do matter, and they've been far more positive than negative.
We've recently seen the beta testing of the Lightning Network, which will speed up bitcoin transactions dramatically and make bitcoin scalable. We've seen Ethereum inch closer to testing Casper, its proof of stake protocol for speeding up its network. It's expected to be ready by 2020 or 2021.
We've also seen exchanges make huge upgrades, especially when it comes to security. And we've seen the much-anticipated introduction of decentralized exchanges.
The crypto community is also making sure institutional investors feel welcome when those investors roll out crypto-investing services to their wealthy clients. A half-dozen companies have introduced safe custody solutions in the past year. Institutional investors can now make millions of dollars' worth of bitcoin trades with the same confidence, security, safety, convenience and reliability they get with large fiat-based transactions.
Fidelity is spinning off a 100-person-strong company to provide cryptocurrency trading services for funds, endowments, family offices and sophisticated investors. And Coinbase has recently expanded into cross-border payments. Its customers can now transfer funds to any Coinbase users around the world without paying a fee.
Not everything is positive, of course. The Chicago Board Options Exchange's bitcoin futures have shuttered due to lack of demand. Hacks still happen, though less and less frequently. And the SEC is still moving slowly to approve its first bitcoin exchange-traded fund.
But the needle is still pointing up and to the right. Crypto may not be making uninterrupted progress, but it's making progress nonetheless.
It's not crypto's fault that its quiet progress fails to capture mainstream attention. But even this kind of steady and (dare I say) boring progress has to be given its due… eventually.
Frankly, if I told you I knew that day would be yesterday, I'd be lying. I had no idea. Did you? Did Krüger? Did anybody?
I doubt it. But I knew all the technical advances and all the crypto infrastructure building has not simply been going into a black hole.
Value is being created on a daily basis. Bitcoin's price was a very poor and unreliable indicator of that progress. It still is. We should NOT place too much weight on the daily/weekly/monthly movements of crypto prices.
It's nice that prices have shot up. But it's not validation.
That will come when millions of people (knowingly or not) incorporate cryptocurrencies into their daily routines.
Things are looking up, and prices are going up. But, remember, these two things do not always move in tandem.