Editor's Note: We originally ran this article from Andy last August, but since it's an educational piece, we think it's worth revisiting. As startup investors, we need all the tools we can get to help us make sound investing decisions. The method Andy delves into here is one tool you can use to better understand a startup's valuation, risks and potential for success.
---
Dear Early Investor,
Startup valuations are tricky.
This is due to the difficulty of assessing illiquid young companies with measly track records but exciting technologies and/or business models.
But you still have to pay attention to them. Why?
The valuations you begin with heavily influence the profits you end up with.
Which is why I always ask founders what their company's valuation is… and how they arrived at it.
The wrong answer – an inflated valuation – is a deal breaker.
Enter the Berkus Method
Last Friday, I was talking to a founder who was telling me why his social engagement company was such a great investment.
Its value? "Five million dollars," he said.
The startup was pre-revenue. And it was ramping up downloads at an impressive rate.
When I asked him how he arrived at a $5 million valuation, he said he used the "Berkus Method."
I've heard of the DCF method, Risk Factor Method, Scorecard Valuation Method, Comparable Transaction Method, First Chicago Method and Venture Capital Method.
But the Berkus Method?
That was a new one.
When the founder explained it to me, it sounded pretty simple. Rather elegant, actually.
But I needed to know more. A company's valuation is too important to depend on somebody's two-minute explanation.
So I did some digging.
And you know what? The Berkus Method is worth knowing.
It's a four-factor valuation formula. These same factors also give you a nice framework to assess the investment opportunity in terms of current risk and chances of future success.
This is what I found out…
Version No. 1
Dave Berkus created the first version.
Dave is a startup investor and author. He came up with his method in the mid-1990s, he said, to "help with the imprecise problem of how to value early-stage companies."
His method gained prominence when it was published in the book Winning Angels in 2001.
It identifies four major risks that startups face: technology, execution, market and production. A startup can be credited in each of these areas with a maximum of $500,000 for reducing risk.
Plus, the startup automatically gets $500,000 for the idea itself.
If it earns a perfect score, its valuation tops out at $2.5 million.
Here's the Berkus Method summed up in a chart…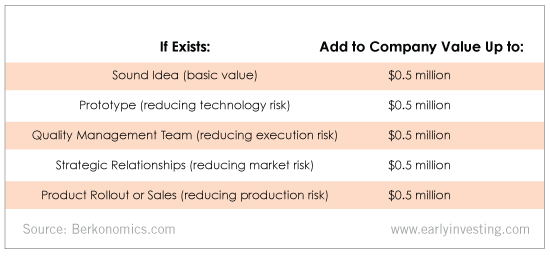 Version No. 2
In 2005, Berkus' method was tweaked by Alan McCann. He visualized the Berkus Method this way…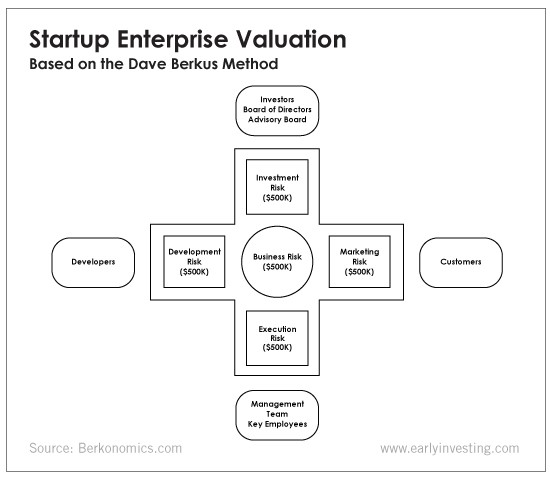 McCann replaced technology risk with investment risk and replaced production risk (making a product) with development risk (developing a product).
He also added the cohort responsible for each. "A nice touch," Berkus said.
Its Current Use
The Berkus Method is meant for pre-revenue companies.
In the mid-1990s, when the method was created, that mostly meant seed companies.
Times have changed, though.
Nowadays, seed-stage companies usually generate revenue.
Used to determine seed valuation, the methodology yields valuations that are too low.
In a November 2016 blog post, Berkus agreed. He said that his method should create valuations that users "are willing to accept in a perfect situation."
In our First Stage Investor portfolio, the lowest startup valuation is $2.7 million. That startup – Court Innovations – is one that Adam and I consider a huge bargain.
Most of our seed company valuations fall between $4 million and $10 million.
The Berkus Method is best suited for pre-revenue, pre-seed companies.
Take, for example, the founder I was talking to last week. He used the Berkus Method pre-seed. He was seeking his first angel investments and used the max $2.5 million valuation.
Now he's raising again – in a seed round. And he's upped the valuation to $5 million based on the progress his company has made in the four risk areas Berkus identified as key.
Rather than have each category be worth $500,000, he doubled them.
Sounds about right to me.
Valuations Matter
Progress and valuation: Alone, they're impossible to decipher.
Taken together, one gives meaning to the other.
Nice progress at an exorbitant price isn't a great investment.
A good price for mediocre progress isn't such a great deal either.
Berkus says his valuation method only works if the startup reaches at least $20 million in revenue within five years.
Let's say, conservatively, that this translates into a $100 million company (five times revenue).
That would place the startup in the upper third percentile of exit valuations. Two-thirds of startups do worse…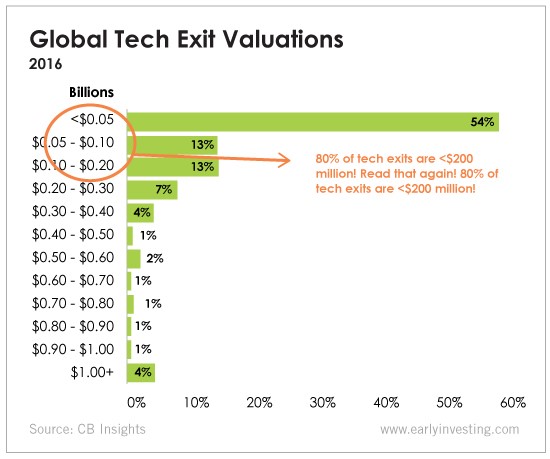 What can a $20 million-in-revenue company do for you?
If you invested in the company at a $2.5 million valuation, your profit would be 40X without dilution and roughly 20X including dilution.
Remember, only one out of three of your holdings would reach at least $100 million.
In a portfolio of nine holdings (to keep the math simple), with one out of three of your holdings reaching at least $100 million, you'd have three big winners.
If you invested $1,000 in each holding (again, keeping the math simple), you'd net a minimum of $51,000 for a portfolio of startups that cost you $9,000.
That's nearly 7X in profits – or more.
At a $5 million valuation (which I think is more realistic), your total return would be cut in half. The profits from your three winners would go from 20X each to 10X each (counting dilution).
That's exactly what Berkus had in mind. He said…
There is no question that startup valuations must be kept at a low enough amount to allow for the extreme risk taken by the investor and to provide some opportunity for the investment to achieve a 10-times increase in value over its life.
I agree.
Extreme risk should beget extreme rewards.
The math says when it's used to invest at the right valuations, the Berkus Method does just that.
Invest early and well,
Andy Gordon
Co-Founder, Early Investing