Editor's note: Today we're running an article Adam wrote in March 2017. It's about one of the only legitimate pure marijuana stocks in the world. When this article first went out, Canopy Growth Corp. shares were trading around $11. Today they're more than $27, and the company received an investment from Constellation Brands, one of the largest liquor companies in the world. We think it's worth keeping an eye on this one.
---
Dear Early Investor,
If you're a longtime reader of Early Investing, you know I'm always on the hunt for great marijuana investments.
After all, it's not every decade that a $141 billion global market goes from prohibited to legalized. That's exactly what we're seeing play out across the world.
Today I'm going to look at one of the most intriguing cannabis stocks I've found so far.
That company is Canopy Growth Corp. (TSE: WEED), and it has become a massive player in Canada's booming medical marijuana industry.
Canopy is a vertically integrated cannabis company. It does it all: grow, process, market and distribute. It's as "pure" of a play on cannabis as you'll find.
Canopy is expected to produce revenue of $44.8 million in fiscal 2017, up roughly 180% from 2016. The company is not yet profitable, but that hasn't stopped enthusiastic investors from pushing the company's share price up from a 52-week low of $2.40 to $11.05 as of March 16, 2017. (Note: All financial numbers are in Canadian dollars.)
The company's market capitalization has risen to an impressive $1.7 billion. And in a vote of confidence, its shares were recently added to the S&P TSX Composite Index, Canada's benchmark stock index.
Canopy operates out of an abandoned Hershey factory in Ontario, which it purchased for the bargain price of $6.6 million. This is a massive facility with more than 500,000 square feet of space.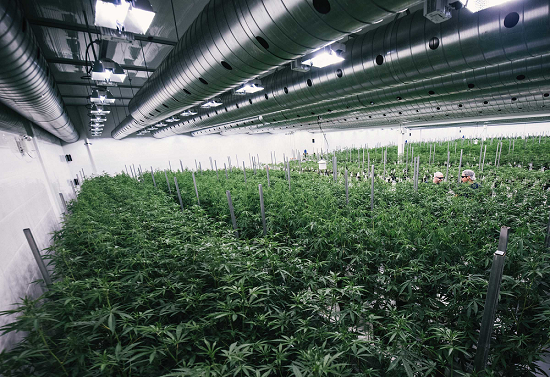 Canada's Plan to End Marijuana Prohibition
As you can see, Canopy's medical marijuana business is humming along nicely. But the real potential comes as early as next year, when Canada is expected to legalize pot for recreational use.
A study by Deloitte estimates that Canada's retail marijuana sales could grow to $8.7 billion annually as a result.
And when you factor in the entire market (growing, processing and testing), that number could grow to a massive $22.6 billion per year.
Canopy is positioned nicely to take advantage of this shift. The company is well-capitalized, with more than $90 million in cash and just $7 million in debt.
My primary concern with the stock, however, is a significant one. The price of marijuana is likely to crash once recreational pot is legalized in Canada.
In Colorado, for example, wholesale prices have dropped a whopping 48% since the state legalized weed back in 2014.
With cannabis becoming "commoditized," Canopy and other producers will need to focus on efficiency.
If the company can grow sales sufficiently to survive the price shocks that are likely to hit in the near future, I'd say Canopy has a very bright future indeed.
Bottom line: This company has a good shot at becoming the "Philip Morris of cannabis."
Have a great weekend, everyone.
Adam Sharp
Co-Founder, Early Investing