HONG KONG – I could tell Hong Kong was in trouble the moment I boarded the plane. The flight attendant was busy telling people that there were only 130 people onboard, so while passengers were free to move around, they weren't free to move up into premium economy, business class or first class.
That's not normal. Flights to Hong Kong from the United States are usually booked full. Moving around is simply not an option. I know because I fly the route frequently.
When I landed in Hong Kong, the signs were more obvious. Hong Kong International Airport used to be a thriving and bustling place with packed restaurants in the arrivals area, packed restaurants outside of security in the departures area, and a sea of family and friends greeting loved ones or sending them off.
Last Saturday, there was no one there. I cleared customs in no time because there were hardly any passengers flying in. I picked up my bag in record time because there were probably more workers than passengers there at the time. And I walked out into one giant – and virtually empty – arrivals hall.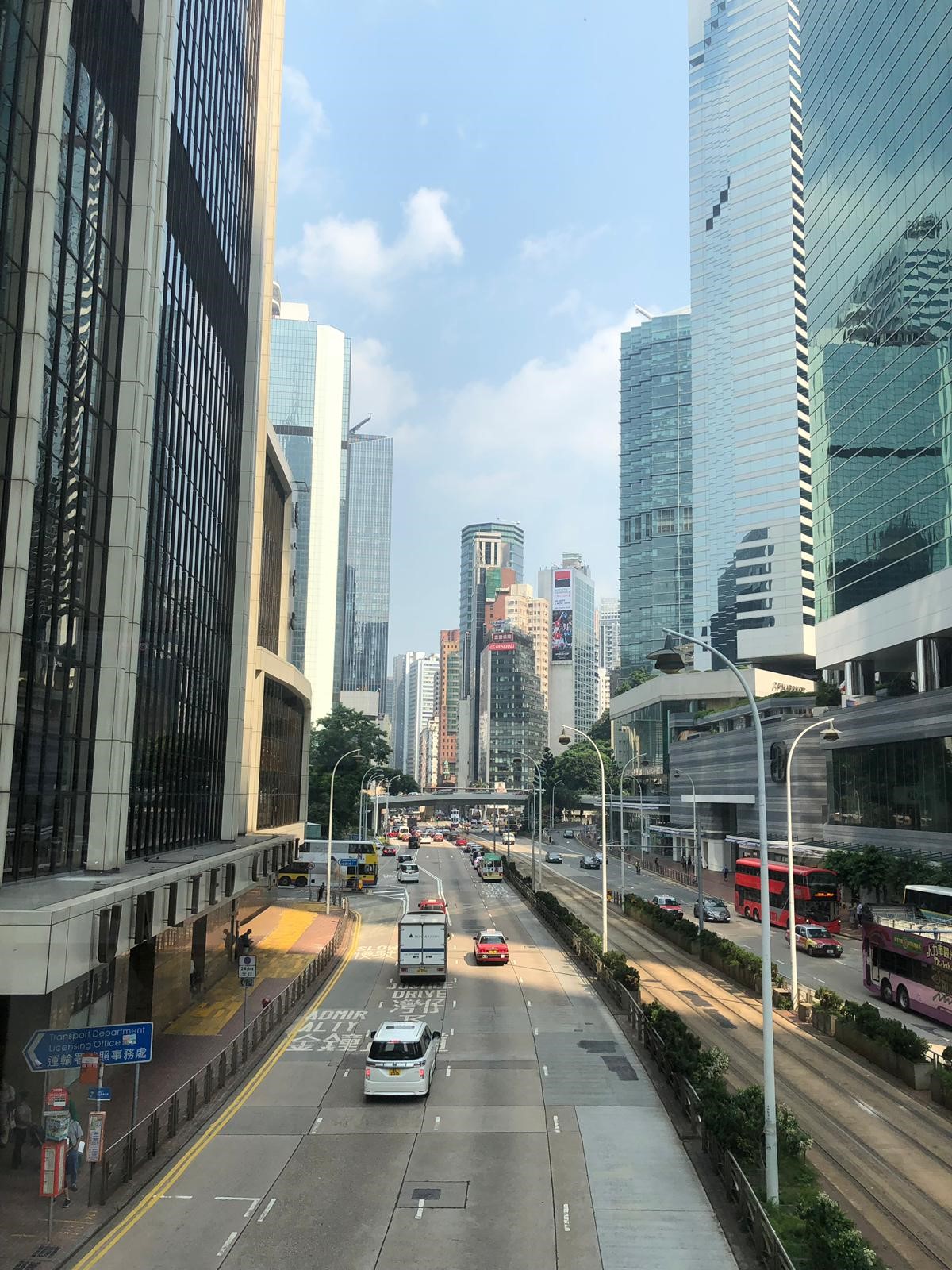 Relatively empty streets of Hong Kong's financial district
Photo by Debolina Saha Narayanan
Then it was on to the virtually empty taxi stand. And the virtually empty airport roads. You get my point. Hong Kong is in trouble.
Hong Kong's troubles didn't start this year. You can trace them back to when then-British Prime Minister Margaret Thatcher negotiated the handover of Hong Kong to China in 1984. The Chinese were not thrilled with the fact that China would not receive Hong Kong until 1997. And they were even more annoyed to learn that when they did receive Hong Kong, it would be under a one-country, two-systems framework that allowed Hong Kong to operate as an autonomous region with its own currency, airport and security system – until 2047.
It was a bitter pill to swallow. But China was in a tough spot in the negotiations. Hong Kong was a rising economic and financial powerhouse. And China had a long way to go.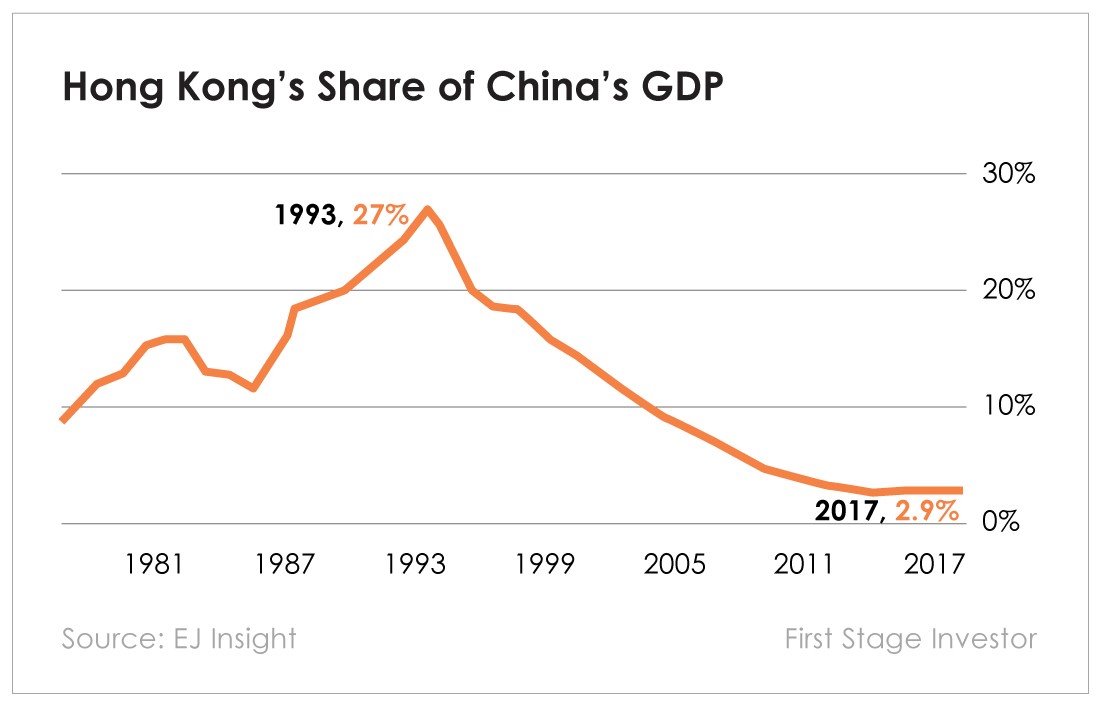 In 1982, Hong Kong's economy represented more than 15% of China's gross domestic product (GDP). In 1993, Hong Kong's share of China's GDP was 27%. But since 1993, Hong Kong's share of China's GDP has slipped precipitously. In 2017, it dropped below 3% for the first time. And as of 2018, it stood at 2.7%, according to World Bank data. As China's economy grows, along with its banking and financial industries, Hong Kong – and its access to the capital markets – becomes less and less relevant.
So China is flexing its muscles. It doesn't want to wait until 2047 to annex Hong Kong for good. It wants Hong Kong now. And it feels like it has all the leverage and power now.
A Looming Threat
When I first landed in Hong Kong in 2015, I was an eager American wanting to test my mettle in Hong Kong's bustling startup ecosystem. At the time, you could make the argument that Hong Kong had the best startup environment outside of Silicon Valley. And if you wanted to gain international experience and startup experience at the same time, there was no better place than Hong Kong.
Within weeks of my arrival in Hong Kong, China kidnapped the owners of a bookstore down the street from where I was staying. The bookstore specialized in dissent literature criticizing China's Communist Party. And the Chinese government had enough.
Then came the $20 billion bridge linking mainland China, Hong Kong and Macao that opened in 2018. China ostensibly built it to show off Chinese engineering and to better "integrate" Hong Kong and Macao into mainland China.
Here's the thing. There's a high volume of efficient transport between Hong Kong, Macao and China. The bridge was unnecessary. So why did China build it?
Because it wanted to remind Hong Kong and Macao – but particularly Hong Kong – that its military could roll into the city anytime it wanted.
Which brings us to this year – and the protests that have changed Hong Kong forever.
Fighting for Hong Kong's Future
The flashpoint for the protests was an extradition bill that China and its pro-Beijing lackeys in the Hong Kong government tried to sneak through. The bill would have made it easy for China to "extradite" Hong Kong citizens to China, where they could easily disappear in China's less-than-transparent "justice" system.
So starting in March, millions took to the streets on a regular basis to protest and demand the bill be withdrawn. And as Beijing and its puppets in Hong Kong resisted, the protesters quickly realized this was no longer a fight about one bill. Instead, it was a fight about the future of Hong Kong.
And that's when the focus of the protests shifted from just shutting down the commercial center of Hong Kong to shutting down the commercial center, the Hong Kong airport and access to the airport.
Why the switch? In part because the Mass Transit Railway, which operates most of the transportation to the airport, is substantially owned by China. It sends a message. But mostly because, while shutting down the commercial center of Hong Kong was emptying the streets and inconveniencing the bankers and lawyers who work downtown, it wasn't doing much beyond that. The protesters needed a more powerful message – one that might cause the entire world to take notice and put pressure on China to keep Hong Kong free.
So they started protesting at the airport – and making it impossible for people to go to or from the airport.
The protests drew international attention. But they also started to hit Hong Kong – and China – where it hurts: in the wallet. Visiting businesspeople – the lifeblood of Hong Kong and still important to China – have stopped coming. You can get good hotel rooms in Hong Kong now for $9 a night. The monthly rate (including free breakfast!) in a pretty good hotel is now cheaper than living in the tiniest of apartments in Hong Kong.
The pro-Beijing Hong Kong government responded in its expected law-and-order style. It began by letting only people with boarding passes into the airport. That's why when I arrived, there was no one in the arrivals hall. At key airport transport points in the city, officials inspect boarding passes to make sure only ticketed passengers can go to the airport. That keeps the "troublemakers" at bay.
The government also began shutting down public transport when protests are supposed to happen. The goal is to make it hard for protesters to get around and frustrate them. The result is only that it makes it almost impossible for workers to get to work. Everyone in Hong Kong relies on public transportation. It doesn't matter whether you're wealthy or poor. So on protest days – or rumored protest days – the streets are deserted. And the businesses that rely on foot traffic? They're struggling too. Some shops – like Forever 21 – have pulled out of Hong Kong completely. Its last Hong Kong retail location, in Mong Kok, ceased operations a few days ago.
And the Causeway Bay Ikea, which is usually packed with people all day long, barely had a crowd last Wednesday. It was the first time I've ever been able to walk through that store without running into a mass of humanity.
Business as Usual
So the protests are "working." They're a thorn in Beijing's side. And the international attention is making it tough for China to respond with brute force.
But the protests haven't really affected the spirit of Hong Kong. It's still the safest country I've ever been to. Whether it's 3 a.m. or 3 p.m., I know it's perfectly safe and I have nothing to worry about.
Kids in uniforms go to school laughing and giggling every morning.
The buses and trains are even easier to navigate than before because they're not as crowded.
Lawyers, bankers and CEOs spend as much time looking at their phones as they do eating in restaurants.
And as long as you're not in the middle of the protests, it's almost like business as usual.
That's why most of the expats living here plan on staying – for now. I spoke to an American who had recently moved to Hong Kong from Shanghai. She told me that Shanghai was a bigger culture shock than Hong Kong. But the lack of space – especially for her two dogs – surprised her when she moved to Hong Kong. She had much more space and room in Shanghai. But she likes her work and has no intention of leaving.
Other expats are keeping an eye on October 1. China will be celebrating the 70th anniversary of the "founding" of communist China. It's a day to celebrate the Chinese Communist Party and communist system. And the Chinese government does not want anything embarrassing it.
The Hong Kong government has already canceled a massive fireworks celebration. But the city is on edge. No one knows what's going to happen. And some of my expat friends are leaving Hong Kong for a mini-vacation. They'll return later in the week, after everything settles down.
As for the startup scene in Hong Kong, my sense is it's struggling. Granted, it's hard to make that sort of judgment in just one week. Startups need a stable political environment to operate in. And right now, it's anything but stable.
Go While You Can
When you read this, I'll be flying back home to the United States. And I want you to know two things about Hong Kong…
First, don't worry about what you see on the news. Hong Kong is a beautiful, safe and peaceful place to visit. As long as you're not in the middle of the protests, you'll be fine. And that's pretty easy, because the best places to visit are nowhere near the protest zone.
Second, this isn't going to end well for Hong Kong. The Chinese government is losing patience. If China had its way, Hong Kong would be integrated politically, economically and culturally into China right now.
And when (not if) China moves to fully "integrate" Hong Kong, you'll hear a lot of protests from other countries on the world stage. But you won't see much action. And China probably won't face any consequences. That's just the state of the world we live in right now.
So get ready to say goodbye to Hong Kong as we know it at some point in the upcoming years. For decades, it's been Asia's nerve center for entrepreneurship, startups, finance and mavericks. It's been a great run. And it will be missed.
Just make sure you visit before it's gone for good.