New Recommendation: Scrap Connection
I'm excited to announce our newest recommendation. The company is called Scrap Connection.
Before I get into why we're recommending this company, a little backstory…
I've done a couple of mildly interesting things in my life. One was heading a trade and financing company based in Asia.
It was fun. I made some money from it.
But, to tell you the truth, it also probably scarred me for life.
I found out pretty quickly that Asia isn't the easiest place to do business.
These are just a few of the indignities I experienced:
Signed, sealed and delivered? No such thing in Asia. More than once, I had a customer try to negotiate price after the contract was signed.
A government official asked to "borrow" our bid award letter to correct what he called "a couple of typos." We never saw the document again. The multimillion-dollar project went to another company.
Shipments that couldn't clear Customs were common. There always seemed to be certain officials who, wanting to getting paid extra, "lost the paperwork."
Believe me, I could go on.
Doing business in the U.S. is one thing. Doing business in many overseas markets opens up a big can of worms.
People here have no idea. You have to experience it yourself to really understand.
So when I first talked to Chris Yerbey, the founder of Scrap Connection, he struck an immediate chord.
He told me how rampant fraud was in the global scrap metal business.
Now, I was never in the scrap business myself. But, back in the day, during my business travels throughout Asia, I heard plenty of stories.
If nothing else, it was a form of therapy. You told me how you were lied to and cheated out of hundreds of thousands of dollars, and I did you one better with my story.
I usually held my own in these competitions, except when I talked to those poor old scrap guys.
Man, they had it bad. I could never top them.
So when Chris started telling me how as a trader he paid $150,000 for a pile of worthless junk, it was déjà vu. I could just as easily have been in a seedy bar in Bangkok talking to the expat trader sitting next to me.
After 10 years, I decided to return to the U.S.
Chris, on the other hand, decided it was high time somebody cleaned up the scrap business. With 12 years in the industry and experience developing trade platforms for waste and recycling companies, he had a pretty good idea of what was needed.
Solving a Huge Problem
Scrap metal is a $250-billion-a-year business. Massive.
Chris wants to run at least 10% of it through the platform he has set up to buy and sell scrap.
He's identified a huge need in a huge market. That's a nice foundation for a startup company.
But how about the edifice on top of the foundation?
Scrap Connection wants to take much of the guesswork and risk out of the scrap business and replace them with transparency and hard data.
Does Chris' platform get the job done? To become an irresistible tool that scrap traders can't imagine doing without, it would need to hit pretty much all the major pain points for these recycling professionals.
Granted, that's a high bar. But I'm not interested in a company that helps out traders here and there. I want a service that moves the needle… that puts the industry on an entirely new path…
Like what Airbnb's platform is doing to the hotel industry. It's now worth $30 billion.
Or what Uber's platform is doing to the taxi industry. It's now worth $68 billion.
Or what Intercontinental Exchange is doing to the commodity markets (among others). It's now worth $35 billion.
Or what Alibaba's platform is doing to the retail industry. It's now worth $253 billion.
Of course, these companies are at the top of their class. It's hard to do. And it doesn't happen every day.
But it does show you what can happen when a well-thought-out platform meets a huge need.
Alibaba's Big Failure
Alibaba is probably the best example of this. So listen to what Chris said about the company…
"The reason I started Scrap Connection is because Alibaba failed the scrap business."
Well, that took me by surprise.
I used Alibaba back in the day to source some green industrial glass from Vietnam and was quite satisfied with the information I got.
When I told Chris this, he said Alibaba has worked well across a lot of sectors, but scrap traders proceeded to do online via Alibaba what they did offline – lie and cheat.
"The only difference was it was easier to do it on Alibaba's site," Chris said.
"We make it as hard as we can for traders to misrepresent themselves or the deal they're trying to transact," he added.
Scrap Connection has built a platform that…
Connects. Buyers can reach out to sellers and sellers to buyers. You can look up their profiles and search by the material you're looking for or by region.
Trades. You can put in your offers or purchase requests and watch as the platform reveals several deals from other members that instantly match.
Informs. Other information covered includes daily news, price sharing and event listings.
Ships. The company is readying a feature that will not only trade scrap, but also ship it. This is one of the hardest and most expensive parts of the business for scrap traders. Chris and his team plan to leverage their user base to secure the best shipping rates. We believe this additional service could significantly boost revenue when put into effect later this year.
Pushing Back Against Fraud
Most importantly, Scrap Connection helps prevent fraudulent behavior. It verifies a member's basic information, including locations, personnel, registration, certifications and recent trading history. It also encourages traders to share pictures of their product.
And that's just the beginning.
It also generates feedback from both buyers and sellers once a transaction is completed.
And it uses both the verification process and the feedback to provide members with a "reputation report" upon request.
Just as a buyer pulls a Dun and Bradstreet credit report on a supplier before making a big purchase, scrap traders would pull a Scrap Connection business intelligence report before pulling the trigger on a deal.
The report would give them critical information on whether the company sitting on the other side of the transaction consistently lives up to the terms of the contract, whether it pays on time, whether it ships on time, whether it grades its shipments (as a supplier) according to industry standards, whether it's professional in its dealings… and so on.
It makes perfect sense.
These reports are shaping up to be big revenue producers for Scrap Connection. At $50 apiece and with average-sized members doing around 10 to 25 deals a month, the revenue generated would easily exceed monthly membership fees by several orders of magnitude.
As you can see, where other platforms are wrapping up what they provide to members, Scrap Connection is just beginning…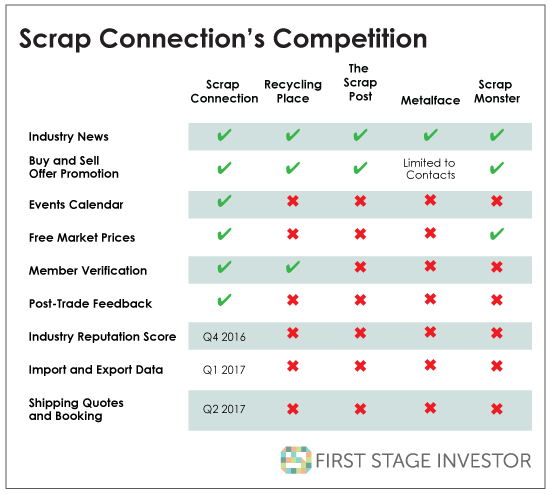 The company has 1,600 members. Trades on its platform so far total $10 million – a lot of it covering the busy U.K.-to-Pakistan route.
Scrap Connection, based in Amsterdam, plans to expand this year into routes originating in the Netherlands, then push into other Asian countries where the scrap business is big. (Taiwan, China and India are some big ones.)
So let's go through the investing criteria we use before discussing deal terms…
✔ Market. The company is aiming for a 10% minimum share of an inefficient and fragmented $250 billion global market.
✔ Need. A full 80% of scrap traders say it's difficult to find trustworthy trading partners.
✔ Solution. This is comprehensive and well-thought-out.
✔ Monetization. The company will have several membership levels, a monthly and annual option, with several new products and services to be introduced this year and next.
✔ Competition. There are no clear threats currently.
✔ Traction. The company is still basically pre-traction, but it's increased site traffic six times in the last two years just from word of mouth and social media. The company has shown the ability to capture large clients, such as HKS Metals (Netherlands), Ward Recycling and Mettalis Recycling (both U.K.). Beginning this year, the company will begin building recurring revenue through its membership fees and reputation reports.
✔ Capital efficiency. The company has low $8,000 to $10,000 monthly expenses ("burn rate"). That will increase this year and next year as the company goes from pre-traction to growing revenue in earnest. That said, we're confident in its ability to keep overhead low.
✔ Scalability. This is pretty much built into the platform. Members are encouraged to invite their contacts, because the more contacts they give on Scrap Connection, the higher reputation scores they earn.
✔ Price. With a $4.5 million capped valuation, you're buying future shares at a fair price. Think of it this way: If the next round is $10 million, with a $4.5 million cap you're getting a discount of more than 50%. And if it's, say, $3 million, your 15% discount kicks in.
✔ Leadership. The founder and CEO, Chris Yerbey, runs a small five-person team. Born and educated in Alabama, he's now based out of Amsterdam. I was unable to meet him, but we did have several phone conversations. As a 12-year industry veteran, he has deep knowledge of the scrap/waste/recycling business.
And Chris has got his finger on the pulse of this industry. He knows what traders need to conduct business efficiently. (By the way, I gave his platform a test run. It's extremely user friendly.) As an entrepreneur, he's also had several successful exits of companies he's headed or played a leadership role in.
Chris's chief technology officer, David Kelly, has spent 22 years working with online-platform-related technology. Together, they form an experienced and knowledgeable team.
An Enormous Opportunity
As you can see, all our main boxes are checked.
The fact that the industry is such a mess represents both an enormous opportunity and an enormous challenge. I've already commented on the opportunity.
The challenge?
In my view, it's cultural – attacking an industry that's freewheeling and playing loose with normal business rules and etiquette.
You can't transform such a culture overnight. There will be resistance. Changes in behavior will come slowly. Especially when you consider it's not only the cheaters who benefit from the status quo. It's also the wily veterans who know the players… who know which companies to do business with and which companies to avoid.
Then again, at first people thought it was weird to summon taxis from their smartphones. That didn't last long, did it?
Overall, I don't expect the challenge to get in the way of the opportunity. Scrap Connection may be boring and unexciting to some, but that's not how I see it.
To me, it's a big opportunity ready for a solution using today's technology.
Scrap Connection has a firm grip on that solution. And I don't think it's going to let go easily.
Deal Details
Minimum investment: $200
Security type: Future preferred stock via SAFE (An agreement that grants the holder the right to equity at a later date, typically when the company raises another significant round of funding)
Valuation: $4.5 million with a 15% discount
Industry: Business-to-business commerce
Raising up to: $300,000 (planned but not finalized)
How to Invest
Create an account on Wefunder.com if you haven't yet. Filling in these three boxes is all you have to do. Then click the green "Sign Up" box.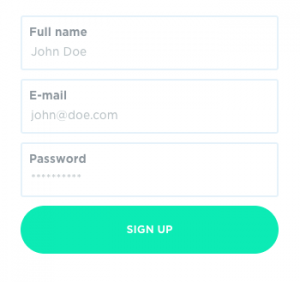 After you've signed up and logged in, click here to go to Scrap Connection's investment page.
Click on the green "Invest" button on the right side of the screen. This is what you'll see.

Enter the amount you want to invest. The minimum is $200, but you can invest more if you like.
Scroll down a bit and you'll see "Payment Method." You can select "Bank" (a debit payment), "Wire" (a credit payment), "Check" (for which you'll get instructions on who to assign the check to) and "Bitcoin" (for which you'll get instructions).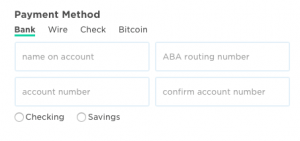 If you're using the first option – a bank transfer – please remember that the ABA routing number appears on the bottom left of your check and the account number appears on the bottom right.
Also note that the second option – sending a wire – doesn't require you to give Wefunder your banking information. It remains in-house with your bank, if that matters to you.
Okay, ready to scroll down a little more? You'll see this…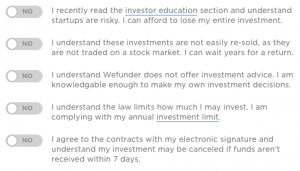 Please click on each one to turn the "No" into "Yes." Once you do that, you can click "Invest." You will now be guided through the remainder of the funds transfer process.
Note: There are limits on the amount that individuals can invest per year. (Full details on that here.) So, if you're new to this, consider investing the minimum amount. There will be many more opportunities to come. Remember, it is ideal to spread your investments across 20-plus startups.
If you're sending money from your account for the first time, it's pretty easy. But the first time doing anything can be challenging. So be patient, and do not hesitate to call your bank if you have any questions.
How You Can Help
If you happen to know anyone in the scrap business, buyer or seller, send their contact details to Chris Yerbey at chris@scrapconnection.com.
At First Stage Investor, we try to add value to our portfolio companies. Of course, this step is optional.
Risks
Like all early-stage companies, there is a risk that the business won't succeed. It could run out of money or fail to attract enough customers. While we're confident in the company's ability to execute, we don't want you to invest any money you can't afford to lose or will need in the near future (in this or any other startup).
Invest early and well,
Andy Gordon
Founder, First Stage Investor