Security type: Crowd Safe
Round size: Up to $1.07 million
Valuation: $30 million
Minimum investment: $25
Deadline: April 1
Investment portal: Republic
Discount: 10%
Note on Crowd Safe: When you invest with a Crowd Safe, you become an investor but not an actual shareholder of stock, unless the company elects to convert the safe into company stock. Since there is a fixed conversion price, you will always receive the same economic outcome (regardless of whether the company elects to convert) if and when there is a liquidity event. A company may also choose to include a "valuation cap" or "discount" (or both) in the safe.
---
Dear First Stage Investor,
Everytable can't be offering fresh, healthy food at fast-food prices without losing a ton of money.
It can't be costing a mere $200,000 to build its restaurants from the ground up.
It can't be getting 4.5 stars from Yelp for ALL FIVE of its locations.
And it can't be changing its menu along with the seasons. That's what high-end restaurants do.
And yet this is what Everytable has accomplished… and it's only getting started.
Everytable has come up with not just a big idea but a HUGE and AUDACIOUS one: to replace hamburgers and fried chicken with fresh, chef-crafted meals at fast-food prices.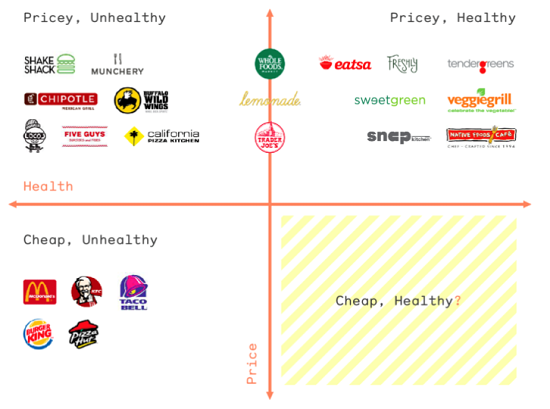 Remarkably, it's pulling it off with five locations in Los Angeles so far.
How Does Everytable Do It?
It doesn't cook its meals on the premises. Instead, meals are made locally in a "central commissary" kitchen and then delivered daily to each location.
The physical locations are smaller than your typical McDonald's because the company needs only enough space to store and serve the food. A couple of employees can run the entire operation at any given time.
Clever, yes?
And going completely outside the box, Everytable prices its meals according to the locations it's in. The more affluent areas pay more. The poorer areas pay less.
It's called Everytable for a reason. It wants to bring healthy, affordable food to every table in the country, including the "food deserts" typically found in blighted urban areas where there is a dearth of healthy food offerings.
Everytable is a public benefit corporation, which means that this mission is embedded in the company's legal structure.
But it doesn't mean the company's not profitable. Its track record so far? For every $1 million of expenditure, its annual run rate is $2 million.
Last year, five locations went live in the greater LA area. This year, it plans to add 12 more in LA. In 2019, it wants to go national with 20 additional locations.
That's when its revenue will really accelerate. With every new location, revenue gets a boost. As of today, it's achieved an annual revenue run rate of more than $5.6 million. Not too shabby.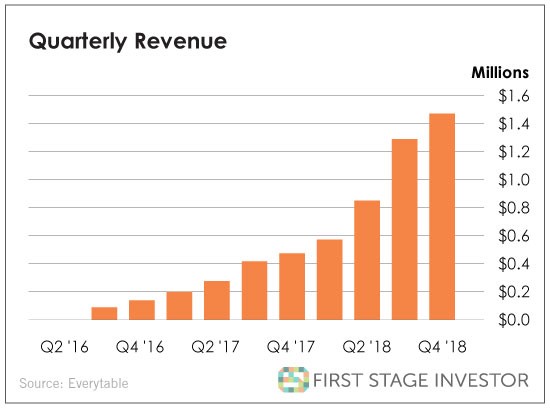 Even with a less impressive track record earlier on, Everytable was still able to raise more than $10 million from investors, including Jon Sokoloff, who is on the board of Whole Foods.
Credit goes to the company's outstanding founders – Sam Polk and David Foster – for raising the funds and turning an outlandishly ambitious idea into a profitable business with a social conscience to boot.
Co-founder and CEO Sam Polk comes from a Wall Street hedge fund background. Before starting Everytable, he founded Groceryships, which encourages people to eat healthy through nutrition education, cooking classes, free produce and support groups.
Co-founder David Foster began his career in private equity and investment banking. He met Sam as a volunteer for Groceryships. He eventually joined the company as the director of operations.
Frankly speaking, I can't wait for Everytable to move into the Baltimore area where I live and work. It's not that I don't eat healthy… It's that the menu looks really delicious.
And to tell you the truth, I'm not a fast-food enthusiast!
So if its menu appeals to me, it's saying a lot. I'll leave you with a sampling of its hot plate menu offerings…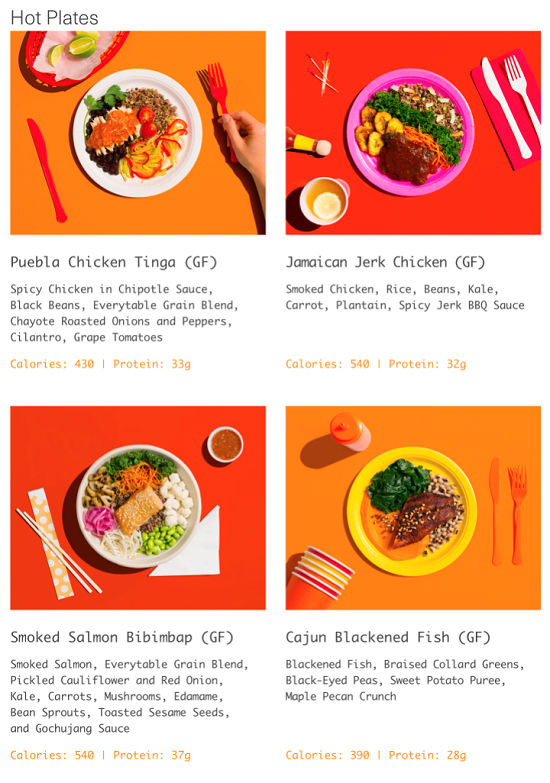 We may be looking at a very young and healthy version of what McDonald's was some 50 years ago.
Everybody wants to eat healthy. This could be the company that makes it possible.
How to Invest
If you're new to First Stage Investor, or if you just need a refresher on how to invest in startups through portals like Republic, check out our video tutorial.
If you haven't registered on Republic.co yet, you can do that here.
If you don't want to register with Facebook or Twitter, select the "Sign up with email" option.
Adam and I have known the team at Republic for almost two years now, and it's one of the most well-run equity crowdfunding portals in the U.S. You can invest with confidence on its platform.
Once you're registered and logged in, navigate to the Everytable investment page.
Then click on the blue "Invest in Everytable" button on the right side of the page. Choose your desired investment amount and preferred payment method (bank debit or credit card) and complete your investment.
Risks
Everytable is an early-stage investment, and as such, it carries significant risk. This is a pre-revenue startup, so don't invest anything you can't afford to lose.
This is not a liquid investment. You should expect to hold it for years.
Like all early-stage companies, there is a risk that the business won't succeed. It could run out of money or fail to attract enough customers. While we're confident in the company's ability to execute, we don't want you to invest any money (in this or any other startup) you can't afford to lose or will need in the near future.
Invest early and well,
Andy