Deal Details
Minimum investment: $1,000
Security type: Preferred shares
Valuation: $7.5 million
Price per share: $1.32042
Industry: Transportation, fitness
Raising up to: $1 million
Opportunity closes: 1/6/2017
---
I'm excited to announce our newest recommendation. It's an electric bike company called EVELO.
Electric bikes have taken the European consumer market by storm, and the demand for electric bikes here in the U.S. is growing. This makes it a great time to invest in this growing company.
Let's dive right into things…
Next Country in Play: The USA
Major trends are at work to bring electric bikes to this country. Finally.
Retail prices are becoming more affordable. That's the biggest factor.
But also cyclists are feeling safer riding on city streets. Healthy lifestyles are becoming more important to both the younger and older demographics. The technology has also improved tremendously – especially the batteries and motor.
And have you noticed? America doesn't love its cars with quite the ardor it used to. In the new sharing economy, car ownership is no longer the be-all and end-all.
We've seen how Uber and Lyft have taken advantage. Now the company I'm recommending to you has the chance to do the same thing. It makes high-end electric bikes at a low-end price tag.
And it has the U.S. firmly in its sights.
It's not as if this is an unproven market.
Some 35 million customers bought e-bikes last year from around the world.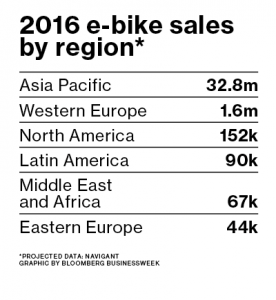 In fact, it's a huge $15 billion global market.
But in this country, it's still a secret.
It's the big and growing market no one knows about – despite forecasts that it will increase from $15 billion last year to around $25 billion by 2025, according to Navigant Research.
No one is paying attention.
That is, no one except EVELO.
Founded and led by the brothers Boris and Yevgeniy Mordkovich, EVELO has the three things every startup needs to take advantage of big emerging markets.
I'll briefly discuss them with you one at a time.
A Great Product
It's a great-looking bike, but that's the least of it.
The battery gives you about 60 miles of biking before needing a recharge, which is an estimate. It depends on how hilly your route is and how much or little you pedal. But I've looked at other bikes, and EVELO's battery is at the upper-most range of what e-bikes offer.
And it takes only about an hour to recharge it to 70%.
More importantly, it comes with automatic high-end gears from NuVinci. For experienced bike riders, this is weird and unnecessary. Changing gears is second nature to us.
But EVELO – quite smartly – wants to accommodate the non-cyclist (and ex-cyclist) market. These are people who could commute to work or could use e-bikes to ease them back into shape more gently than traditional bikes would.
EVELO also offers the "Omni Wheel." It goes on any bicycle and, once installed, turns your bike into an electric hybrid with an estimated 40-mile range.
Very cool, yes?
The front wheel is the Omni. It takes about 30 minutes to install and costs less than half of what EVELO's new e-bikes go for.
A Disruptive Business Model 
EVELO has figured out a way to sell its bikes by going directly to the consumer. No small thing – Boris told me doing so lowers the price tag by $500 to $1,000.
In my research of competitive bike sellers, I confirmed his estimate. EVELO's bikes go for $2,000 to $2,500. Other high-end bike models go for roughly a thousand more.
Instead of selling their bikes through bike shops, EVELO has recruited "ambassadors" from their own customer base. They act as their salespeople and get a small commission in return.
It's a great solution. Who would have more enthusiasm for the "Tesla of bikes" than the customers who love to ride them?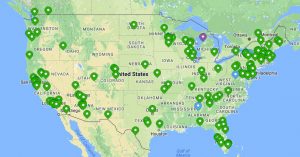 For most of you, it's a 30-minute drive to one of these ambassadors. But they'll come to you.
Now, check out this graphic…
EVELO says it has 3,000 happy customers. And if you're interested in scanning the hundreds of reviews, click right here.
The Team
The Mordkovich brothers cut their teeth on e-commerce companies they founded.
It gave them 12 years of valuable experience in online marketing that they're using today in the service of ramping up sales of their e-bikes.
By the way, they had successful exits on both companies – always a positive sign.
Boris is the marketing guy. Yevgeniy the tekkie.
I've talked to hundreds of founders. Boris was as impressive as any of them. He understands his market and has a clear vision on how to dominate it. He articulates his vision with a high degree of conviction.
And he has very interesting ideas on how to generate reoccurring revenue by leasing their bikes. Just spot-on – rightly understanding that this was the most promising path to huge profits, margin and valuation.
Of course, there's always the chance that Boris is all talk. But I'm pretty sure he isn't. How do I know?
That's where the bonus factor comes in.
The Bonus: Revenue Already Gearing Up
At such an early stage, the absence of revenue doesn't have to be a negative.
But the presence of revenue is always a plus.
And EVELO has sold and shipped more than $6 million worth of its bikes since its inception in 2011.
It's getting close to the $3 million mark as the year comes to a close.
Boris and Yevgeniy have done a great job of growing revenues. This past Black Friday is just the most recent example. EVELO made $300,000… even more impressive when taking into account it's the time of year when bike sales usually drop precipitously.
How I See It: EVELO's Prospects
The U.S. electric bike market is roughly five years behind Europe. And right now, the European market is more than 10 times bigger than the U.S. market.
We're going to see that gap begin to shrink. It's just a matter of how fast.
Claus Fleischer, head of Bosch's e-bike division, says the U.S. market could develop "way faster" than Europe's did.
Yes, EVELO has competition. But it also has an edge in price, technology, business model and level of execution.
And the market will be expanding… perhaps explosively.
It's a nice setup for EVELO. There are other companies sitting around the table, but EVELO's strong hand should take home a very large pot.
And the U.S. is just the beginning.
EVELO plans on going into Canada in 2017… the U.K. and Australia in 2018… and the rest of Europe in the following two to three years.
EVELO is so strongly positioned that I find myself asking not how it can succeed, but how can it mess up?
Well, of course, the answer is in a thousand ways.
But knowing what I know, I'd put it much differently…
I'd say "only in a surprising way."
EVELO is on the precipice of being able to decisively peel away from its competition and quite possibly dominate this large and emerging market.
I suspect that Shark Tank's Barbara Corcoran and Foundry Group's Brad Feld feel the same way. Both are great investors, and both have chosen to back EVELO.
How to Invest
Create an account on Wefunder.com if you haven't yet. Filling in these three boxes is all you have to do. Then click the green "Sign Up" box.
After you've signed up and logged in, click here to go to EVELO's investment page.
Click on the green "Invest" button on the right side of the screen. This is what you'll see.
Enter the amount you want to invest. The minimum is $1,000, but you can invest more if you like.
Scroll down a bit and you'll see "Payment Method." You can select "Bank" (a debit payment), "Wire" (a credit payment), "Check" (for which you'll get instructions on who to assign the check to) and "Bitcoin" (for which you'll get instructions).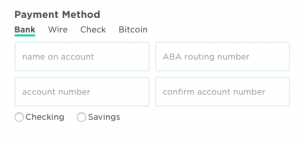 If you're using the first option – a bank transfer – please remember that the ABA routing number appears on the bottom left of your check and the account number appears on the bottom right.
Also note that the second option – sending a wire – doesn't require you to give Wefunder your banking information. It remains in-house with your bank, if that matters to you.
Okay, ready to scroll down a little more? You'll see this…
Please click on each one to turn the "No" into "Yes." Once you do that, you can click "Invest." You will now be guided through the remainder of the funds transfer process.
Note: There are limits on the amount that individuals can invest per year. (Full details on that here.) So, if you're new to this, consider investing the minimum amount. There will be many more opportunities to come. Remember, it is ideal to spread your investments across 20-plus startups.
If you are sending money from your account for the first time, it's pretty easy. But the first time doing anything can be challenging. So be patient, and do not hesitate to call your bank if you have any questions.