Note: Cardano (ADA) will replace new economy movement (NEM) in our crypto portfolio. I recommend selling your NEM for bitcoin on Bittrex, then using the proceeds to buy cardano.
I have been waiting for the right time to switch NEM out for another coin in our portfolio – and I think we're at a great entry point for cardano here. I believe we're on the verge of a turnaround in the crypto markets, and cardano is an excellent play to take advantage of the coming institutional boom. More on that below.
This new position should represent approximately 10% of your First Stage Investor crypto portfolio.
---
Introduction to Cardano
Crypto ticker: ADA
Recommended exchange: Bittrex
Current price: $0.13
Market capitalization: $3.4 billion
Note: Price and market cap information is from CoinMarketCap
---
Cardano is a revolutionary third-generation cryptocurrency project. Development began in 2015. And it has attracted some of the world's top talent in cryptography, information security and software development.
Cardano is a smart contract platform with a native cryptocurrency (ADA). And it's similar in many ways to ethereum. Cardano allows for the creation of "smart contracts" for an extremely broad range of applications. In essence, these smart contracts transfer value based on software protocols. Example applications include insurance, property transfers and financial transactions of all kinds. The possibilities are nearly endless (which is why many compare the potential of blockchain technology with that of the internet).
From the start, cardano has been built using insights and lessons learned from previous generations of crypto projects. It aims to fix problems that have frustrated other projects, and it's doing so in a very efficient manner.
Cardano's goal is simple. It wants to build a robust blockchain platform capable of hosting "distributed applications" and processing hundreds of thousands of transactions per second.
Cardano has been built with enterprise (big company) blockchain applications in mind. It is designed to address regulatory and compliance concerns. Audits and immutability are critical design components. Transactions are more private than bitcoin or ethereum, but can be fully audited for accounting purposes. That's ideal for most corporate entities.
Cardano tokens allow participants to use the network. Cardano is the fuel that powers smart contracts and allows for the transfer of value on the cardano network. It's similar to how ether (ETH) functions on the ethereum network. Cardano is also becoming a useful cryptocurrency in its own right, much as ether has done.
The comparisons to ethereum are numerous, and there's a good reason for that. Cardano's founder and chief architect, Charles Hoskinson, was also one of the original founders of ethereum. He left to start cardano and has set out to fix what he sees as ethereum's shortcomings (more about this under the "team" subhead below).
Cardano uses an energy-efficient, highly scalable proof of stake consensus system. For now, this system is run by three trusted parties. But soon it will switch to a democratic and decentralized system in which every cardano owner can participate and help process transactions (and receive rewards – "dividends" – in the form of more cardano). This important feature is expected to go live later this year (Q4 2018).
Cardano is designed to be far more scalable and "green" than coins like bitcoin and ethereum. Many observers see the "energy-hogging" nature of these older coins to be problematic. Cardano sees its eco-friendly footprint as a competitive advantage.
And unlike a large number of competing crypto platforms, cardano is not tied to the ethereum network. Cardano has its own separate blockchain with a completely different codebase.
I believe cardano has the team, technology and vision to accomplish these ambitious goals. It is one of the few projects that can compete with, and possibly overtake, ethereum. Don't get me wrong, I still like ethereum, but by owning cardano we are hedging our bets on the incredible potential of smart contract platforms.
For more of an overview on what cardano is trying to accomplish, I recommend watching this video. In the video, Hoskinson explains how cardano is building a network based on lessons learned from previous cryptocurrencies, and why it believes its approach is superior.
An Impressive Team
As we noted earlier, Hoskinson isn't just cardano's founder. He was one of ethereum's founders. He's also ethereum's former CEO and chief technology officer. Hoskinson also collaborated with EOS' Dan Larimer on BitShares. He's a widely respected leader in the cryptocurrency world and is considered one of crypto's most talented programmers.
He's been around since the earliest days of the cryptocurrency movement. And he's channeling everything he's learned into cardano.
Hoskinson has attracted an incredibly talented and competent team. Some of the world's leading experts in cryptography, computer science and engineering are working on cardano. There are pioneers of computing languages in there, as well as academic technology experts who are trained to peer-review code. In one interview I watched, Hoskinson says he rarely hires people from within the cryptocurrency space. He says they're overpaid and not skilled enough. Cardano recruits the best of academia and business.
Many of cardano's core developers are employed by IOHK (Input Output Hong Kong), the blockchain development firm leading the cardano project. You can see a list of them here. I realize the structure of cardano is a bit strange, and I'll explain it more below under "governance."
Cardano is based in Hong Kong and has a large international presence. It has active communities in both the East and the West – a rare feat for any coin.
Catalysts and Timing
Since its listing on Bittrex in 2017, cardano has quickly become one of the top projects in cryptocurrency.
During the height of 2017's crypto bull run, cardano briefly reached a high price of $1.28 per token. Today it trades at around $0.13 and has come down to a much more reasonable valuation. While timing is difficult in crypto, it is important to realize that we are getting almost a 90% discount from cardano's all-time high. All things considered, I believe this is an excellent entry point.
The primary near-term catalyst I am watching is the good chance that cardano will be listed on Coinbase in the near future.
Coinbase addressed this directly in a recent blog post. Here's an excerpt:
The cardano protocol was created by Charles Hoskinson, one of the co-founders of ethereum. Cardano's bitcoin-like Settlement Layer (CSL) mainnet is live and it has a functional wallet for its built-in ADA cryptocurrency. It has also taken a different technical direction from other blockchains on several axes, like its Ouroboros proof-of-stake algorithm, its use of Haskell and its focus on formal verification. While cardano's Computation Layer (CCL) is not yet live, the project has published long-term road maps, has shipped working software and appears to have a growing community.
A listing on Coinbase would be an extremely positive development. The exchange has more than 20 million customers and remains the primary starting point for investing in cryptocurrency in the West.
If cardano is listed on Coinbase, it will provide a way for new investors to put cash directly into cardano (without having to buy bitcoin first, transfer it to Bittrex and then buy there).
If this listing occurs, cardano would also be included in Coinbase's index fund products, which cater to institutional investors (big money). Cardano doesn't need a Coinbase listing to succeed, but it would be quite a potent catalyst.
Big Money Likes Cardano
Overall, I believe cardano is extremely attractive to institutional investors. These are large financial firms that are just starting to enter the market.
We're at the beginning of an institutional boom in crypto, and I think cardano is an excellent way to take advantage of it (along with bitcoin, ethereum and litecoin, which I believe will all be popular as these financial juggernauts enter the crypto markets over the coming months).
The fact that Coinbase is looking into adding cardano speaks volumes. Coinbase is advised by some of the best venture capitalists on the planet (a16z, USV and other top-tier firms). This is the epitome of "smart money."
Coinbase and most of its investors are based in San Francisco, the VC "capital" of the world. Institutional investors will seek out this influential crowd's opinions when entering the market. And this crowd likes cardano. (Coinbase is also very picky about the coins it lists.)
Cardano has held up relatively well in the market's recent downturn (ignoring the brief high during the height of the last mania). It maintains an impressive $3.4 billion market capitalization today, and this speaks to the quality of its core holders.
Side note: All the signs of this coming institutional boom are there. Qualified custody of crypto is being built out now. ETFs are likely coming soon. Cryptocurrency exchanges are working on getting their broker/dealer licenses. It's all to smooth the way for institutional money to enter the market.
I believe that once a single huge firm moves heavily into crypto, the rest will rush in. We're on the cusp of it right now.
For the most part, institutional money is very patient. They're long-term investors. When they come into crypto, I believe they will buy and hold. This would be amazing for the price action of high-quality coins like cardano.
Governance
Like most crypto projects, cardano has a complex governance structure. For now, the project is primarily led by IOHK. IOHK is a blockchain development studio founded by Hoskinson, and he remains the CEO.
Until 2020, IOHK is overseeing the development of cardano. After 2020, as cardano moves toward becoming a truly decentralized network, the cardano Foundation (a Swiss nonprofit) will help guide the project, pay developers from the treasury and more.
I realize the structure here is complex, but there's good reason for it. Early on in a project like this, there is sometimes a need for centralized structure and guidance. As the project evolves, the community will gain more input and control over direction. Eventually it will be completely "decentralized," which will strengthen the network.
Cardano has one of the most well-designed governance systems I've seen in the crypto world. It has learned from the mistakes of past projects. This is a big part of why we call it a third-generation cryptocurrency.
Cardano has been built to have robust community involvement, and that includes (soon) voting for delegates in the staking process (deciding who gets to create the next "block" and how to split up the proceeds, essentially).
It's designed to incentivize good behavior and efficient transaction processing. There will be a treasury automatically funded to pay developers (which fixes one of the primary stumbling blocks in many projects).
So far, members of the core cardano team have shown themselves to be flexible and not stuck on any particular path. They've changed course based on new developments in the crypto world and community feedback. Most importantly, they never stop making progress.
This is a team I trust to guide the community until the decentralized governance system is fully up and running.
Developer Community
Cardano is one of the most innovative cryptocurrency projects in the world. It has attracted a large number of highly skilled programmers who contribute to its development. These are some of the best coders in the world.
Here's a snapshot of cardano's recent GitHub activity. (GitHub is the open source repository where cardano's code is stored, reviewed and shared.)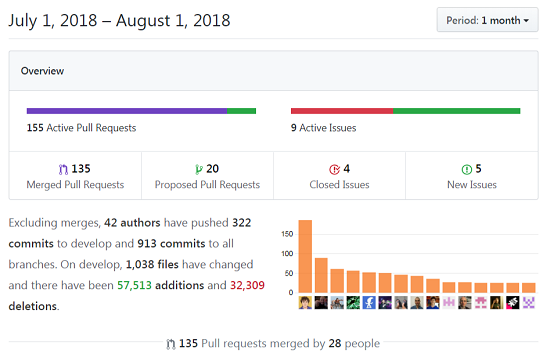 This shows us that cardano is actively being developed by a large number of contributors. More than 40 separate contributors have made changes in the last month. That's impressive. We can see issues are being resolved regularly, updates are rolling out frequently and the development community seems extremely healthy.
In terms of code quality, here is a brief review from an experienced Haskell programmer (Haskell is a coding language used heavily in cardano). Via Reddit:
The first thing to note is that in my experience the average quality level of Haskell code written by experienced Haskellers is well above that of code written in other languages by people experienced in those languages. The language itself eliminates whole classes of errors (e.g., Haskell doesn't really have anything like Java's NULL pointer exception) and provides features like Algebraic Data Types and pattern matching and strict enforcement of distinctions between pure and impure code that make code easier to reason about and work on.

The code as a whole seems reasonably well laid out, is modular and seems to abide by good Haskell coding practices. There also seems to be a good use of custom data types to enforce invariants and prevent errors.
I was able to find a few other reviews of cardano by professional Haskell programmers, and they concur with this assessment. Cardano is putting out some of the most innovative and clean code in the crypto world.
Cardano has built a meticulous and thorough code development and peer review process. All proposed changes are run through a network of experts before going live, and automated tools are used to check for bugs/errors.
How to Buy
I recommend buying on Bittrex.com. If you don't have an account yet, sign up for one here.
If you don't have any bitcoin in your Bittrex account, you'll need to send some from wherever you have it. If you don't have any bitcoin, you can buy some on Coinbase and send it to your Bittrex address.
Once you have your Bittrex account open and funded, click on the "markets" link in the upper-right-hand corner. Now, under "bitcoin markets," search for the ticker symbol ADA. Click on the BTC-ADA link (this is the trading pair of bitcoin and cardano), and it will bring you to the buy page.
If you scroll down past the charts, in the middle of the page, you will see the buy/sell trading box. Each cardano trades for around $0.13 today, so keep that in mind when placing your order.
Under "bid price," select "ask," and that will automatically target the lowest price offered currently. You can enter a limit order if you are familiar with them.
Enter your buy. Bittrex may ask you to confirm the trade with a new two-factor authentication code (Google Authenticator or text message).
Cardano also trades on Binance, Upbit and Huobi. You can see a full list of all the exchanges it trades on here (in case none of these serve your geographical area).
Cardano Wallet (Storage)
Cardano has an official wallet called Daedalus. Only Windows and Mac versions are available. You can download the wallet here. There is no iPhone/Android app yet, so don't download anything claiming to be a cardano app.
Once you download and install the wallet, you'll create a password and recovery phrase. Write everything down twice and double-check everything. Store those passwords in two separate, extremely safe places.
Then you'll send your coins from Bittrex to your new wallet address.
If you're running into issues setting up the wallet, please review the FAQ PDF on the official wallet site. You can also contact the official support team here. (As a reminder, never give anyone your private keys, recovery phrase or login information!)
Risks
Like all cryptocurrencies, this one is risky and volatile. Only invest money you can afford to lose. This investment should be made as part of the high-risk section of your portfolio (which should be a small percentage of your overall investments).
That said, I believe cardano is in an excellent position and consider it a "blue chip" cryptocurrency. You should expect to hold for years, through volatile ups and downs. That's the proven way to make money in crypto.
Cardano Resources
Good investing,
Adam Sharp
Co-Founder, First Stage Investor