I've been tracking this month's crypto recommendation for almost two years. I watched its roller-coaster ride to a more than $12 billion market capitalization and its sharp decline to a $2 billion market cap today. And I kept wondering when it would be the right time to invest.
I typically don't focus on timing. My basic philosophy is that a good project is a good project. And as long as you're invested in good projects, it should work out well in the long term.
But the big swings on NEAR Protocol always threw me off. Here are two different ways to look at NEAR's performance.
NEAR Protocol Market Cap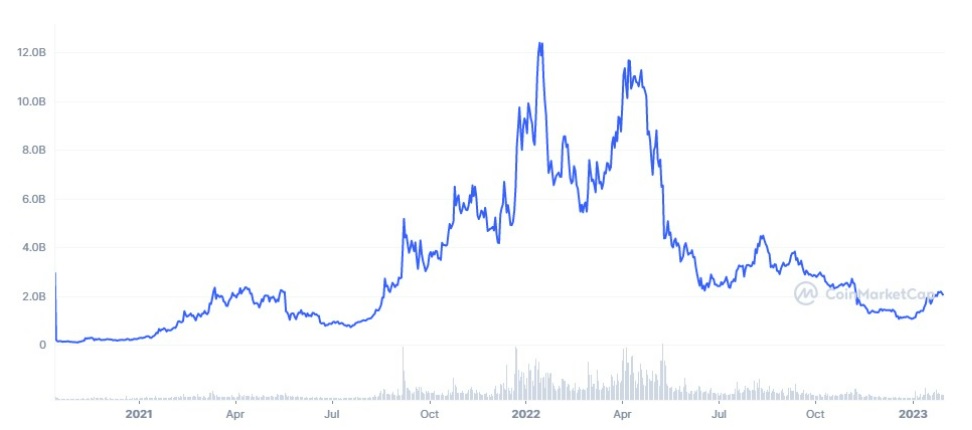 NEAR Protocol Price History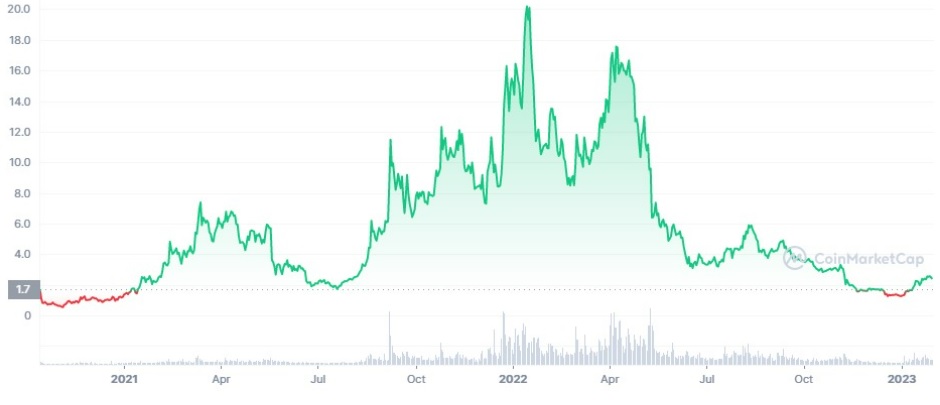 Now this is crypto, the home of wild and crazy price swings. So I shouldn't have been too put off by NEAR's price action. But there always seemed to be a coin or a project that I was more comfortable with at the moment. So I never invested.
It turns out my Spidey sense was justified. Now bankrupt Three Arrows Capital, FTX Ventures, and Alameda Research had all invested in NEAR. And it had an algorithmic stablecoin (USN) similar to the now worthless Terra.
Yet despite these obstacles, NEAR is hanging in there. It managed to end its USN stablecoin project before disaster struck. It said on Twitter that it wasn't holding any funds on FTX. It also said that it has five years of runway, thanks in part to raising $500 million in the first quarter of 2022. Tiger Global and Andreessen Horowitz were among its key investors last year. And even if funds are unavailable from other investors, NEAR should have enough backing — and enough prominent backers — to both survive in the short term and raise money in the future. It's an enviable position to be in. 
NEAR's recent performance also shows it's rebounding. That's the sort of grit and resilience I like to see in potential portfolio companies. And it's why I believe right now is a good time to buy into NEAR.
NEAR is an Ethereum competitor. It's designed to provide a decentralized app experience that's significantly faster and easier to use for both end users and developers. End users, for example, can use simple wallet names instead of long, complicated strings of characters. And developers can use JavaScript to create smart contracts.
JavaScript has been around forever. It's so old that I remember writing some basic JavaScript code in the late 1990s, and I'm not a developer! (Editor's note: JavaScript was launched in 1995, so technically it hasn't been around forever.)
Here's how NEAR described the launch of using JavaScript to create NEAR smart contracts:
With NEAR's JS SDK, more than 20 million developers that make JavaScript the world's most popular coding language can finally join the internet revolution and quickly build fast, scalable, and user-friendly decentralized applications. Having that many more contributors in the space could bring about a fascinating renaissance to the open web.

Although Rust and Solidity are the most prominent programming languages for Layer 1 blockchains, there are fewer than 2.5 million developers worldwide who use these languages. So, opening up the doors nearly 10x is a major step towards mass adoption. JS runs in every browser, the basics can be taught in an afternoon, it requires no compiler setup, and it comes pre-loaded with useful libraries like RegExp, Math, and Array. The NEAR JS SDK brings this same capability and ease of use to developing smart contracts, unlocking the power of blockchain to a much, much wider audience.
Much like Ethereum now, NEAR operates on a proof-of-stake protocol. But its sharding technology is what really makes NEAR unique. Sharding is essentially splitting a single chain into multiple chains operating in parallel. That way, instead of 1,000 transactions going through a single pipe, those same transactions can be split up over multiple pipes and processed simultaneously. That speeds up the entire network.
NEAR's version of sharding splits transactions into smaller pieces and then processes them on a sharded chain. As of this writing, NEAR has been processing more than 431,000 transactions per second (TPS) over the last 24 hours. Ethereum is operating anywhere from 11 to 15 TPS.
That's a stark difference. And it's why I'm fascinated with NEAR as an Ethereum competitor.
NEAR's resilience and technology are impressive. And at $2.37, this is a good price to buy into. Last January, NEAR was trading just over $20. NEAR doesn't even have to sniff that price to generate a good return now. Even if it hits just the $5 mark in the next bull market, that's more than a 100% gain. And I believe that's a reasonable possibility moving forward.
That said, this is still crypto. And crypto is an inherently risky investment. Anything can happen. More importantly, we're still in a bear market. And I don't think we've hit the bottom of the market yet. So make sure you dollar cost average into this position (buy a small, fixed amount each week until you've bought as much as you want to).
Rules of the Road
Investing in a bear market is tricky. It is likely that the market will go down further from here. But it's important to be opportunistic. So if you have capital to invest — and you're psychologically and emotionally willing to enter what promises to be a highly volatile market — here are some guidelines to follow.
Do not invest money you can't afford to lose. The markets are in for a rough ride. If you can't afford to lose the money, don't risk it.

Focus on projects with strong use cases.

Look for teams or communities that are active and committed to their projects.

Always enter a position using dollar cost averaging. That means buying a small amount each week rather than buying your entire position at once. That way, if prices continue to fall, you lower your overall acquisition cost.

Don't try to time the market perfectly. Nobody can. And I believe this bear market will be around for several months. So if you want to wait, that's perfectly okay. But when you do invest, make sure you utilize dollar cost averaging to buy into the market.

Diversify your crypto portfolio. From a percentage standpoint, bitcoin and ethereum should be the biggest investments in your crypto portfolio. But you need exposure to a much broader and more diverse set of coins to take advantage of the full upside of the crypto markets. Bear markets are a good time to diversify your portfolio and increase exposure to different crypto sectors.
Remember, investing in crypto is risky. Investing in a crypto bear market carries even more risk. Less than 5% of your overall portfolio should be invested in crypto. That said, I believe NEAR provides an attractive risk-reward ratio. 
NEAR can be acquired on Coinbase.