Robots are just beginning to make their presence felt in modern life. Surgery, prosthetics and warehouses are just some of the areas where robots have found a foothold in recent years. There will be many more. These are early days. 
But it's not too early for the industry to find its biggest use cases. All it had to do is ask, "What are the two most ubiquitous products in the U.S.?" The answer is pretty obvious.
Cars and pizza. 
We love our cars. And we love our pizza. 
Robotics has already swooped in and disrupted the car industry. Tesla has developed a car that almost drives itself. Several other auto companies have recently introduced their own high-end robotic car models. The use case is massive and proven. 
Pizza's robotic use case is also massive but not yet proven. Piestro — the company I'm introducing you to today — wants to change that. It has built a huge lead on the handful of other companies developing pizza-making robots. Piestro's robot makes artisan and customizable pizzas in about three minutes. The robot is one impressive machine. It does the cooking, cutting and boxing before placing the pizza in a storage locker for customer pickup. It uses fresh ingredients. And, most importantly, the pizzas it makes taste great. 
I know this from first-hand experience. Listen, I take pizza very seriously. And, frankly, I was skeptical that a robot could make a great-tasting pizza. I had to see for myself. So I traveled from Maryland to California a few months ago. I saw the robot in action and tried the pizza right as it rolled off the rack. It was worth the trip. The pizza tasted as good as it looked. 
That's when I began to take Piestro's huge market opportunity seriously. 
A Massive Slice of the Pie
The global pizza market is worth $155 billion. The U.S. alone accounts for a third of that — a $55.5 billion slice.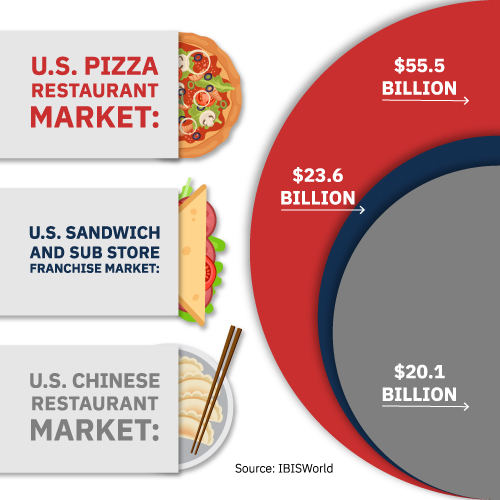 Pizza is a category unto itself. A stunning 93% of Americans order a pizza at least once a month. And about 350 slices of pizza are consumed every second in this country. That means an average American consumes 46 pizza slices in a single year. Globally, more than 5 billion pizzas are sold each year.
It dwarfs other food categories. The closest I could find is the market for sandwich and sub stores at just half the size of the pizza market. 
Pizza as a product is great. But pizza as a business? Not so much. It suffers from low margins paired with high labor and real estate costs. Piestro's robot has been specifically designed to cure these ills. Its small size and fully automated pizza-making process will drastically reduce real estate and labor costs, with the potential to nearly triple profit margins from 16% (for fast casual pizza restaurants) to 49%. With Piestro, it's expected to take one year to break even. Without Piestro, it takes nearly three.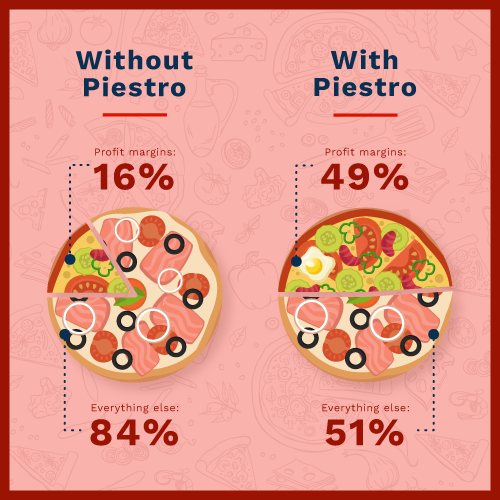 Piestro also increases customer reach and convenience for restaurants and restaurant chains. A restaurant can place Piestro's robots a few miles away in all directions, forming a circle around its central location. Or it can strategically place them, say, on the other side of a highway, bridge, tunnel, park, highly trafficked road, etc. 
The key to Piestro's marketability is that the robot makes pizzas that taste the same as the restaurant's. And the key to that is the technology that goes into the robot. 
This is where the Piestro engineering team has earned its stripes. You begin by using the same ingredients and recipe. The robot can then adjust the temperature and time settings to mimic the flavor and consistency of the original pizza.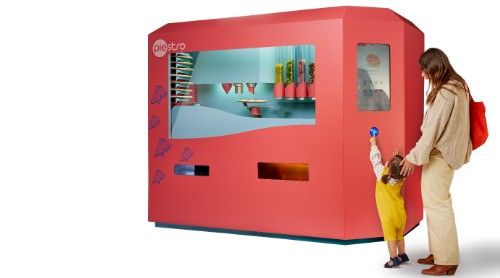 Piestro's pizza-making robot
From spreading the toppings evenly to putting the pizza into a box, the technology challenges have been immense. And now, the company is preparing to deliver prototype robots to its major partners — 800 Degrees Pizza, Fast Fired and Wing Zone Labs — in the coming months. The company plans to build a finalized prototype by early next year. Production would begin shortly after. 
At that point, things should ramp up fairly quickly. 800 Degrees Go — which is 50% owned by Piestro — has committed to purchase 3,600 robots over the next five years. That amounts to $530 million. Fast Fired — with its growing number of locations in Canada — has contracted for 500. And Wing Zone Labs recently signed up for 20 robots to supplement its southern California locations. The total price of Piestro robots contracted for purchase comes to just under $600 million. 
The $600 million represents a floor (of course, nothing is guaranteed). The ceiling for how much revenue can be generated over the next five years is much higher. Other restaurant chains should be signing up soon. Piestro is already in discussions with several of them. And the company plans to also place its own Piestro-branded pizza-making robots in various high trafficked venues such as airports and malls.
Think of it this way. If the company could close contracts worth nearly $600 million without a finished product to show prospective customers, just imagine how much better it could do with thousands of robots making delicious pizza in the U.S., Middle East, Canada, and other places around the globe. 
The upside is as obvious as it is large. Success is by no means guaranteed. That said, Piestro's partner, Wavemaker Labs, does the next best thing.
Piestro's Secret Sauce
One way to frame startup risk is this: What if you build it, and they don't come?
Sometimes, the best products flop. Maybe the timing wasn't right. Or they were mispriced or poorly marketed. Making an amazing product is no guarantee of success.
Smart companies figure out how to leverage great products into commercial success. But I know of no company that does what Wavemaker does. 
Wavemaker (which supports Piestro's engineering and financing needs) has given Piestro a special advantage — a secret sauce, if you will. And it's not the tomato sauce that Piestro uses. Rather, it's the commercial arrangement it has with 800 Degrees. It lessens marketing risk… provides a user case at scale… enables multiple showcases of the product… eases budgetary concerns… and jumpstarts revenue generation. 
Kudos to Wavemaker for nabbing a big contract early in the process. It's a great move and comes straight out of Wavemaker's playbook. Whenever possible, it finds an established company to partner with its fledgling startups. As the established companies are potential big users of the startup's product, Wavemaker offers them a chance to be one of the first adopters via a big contract to purchase product. As further incentive, they are also offered shares or warrants in the company. 
Piestro's Shrinking Risks 
So what could go wrong? 
For one, the 800 Degrees deal could go south. That's right. Piestro's biggest advantage also registers as a risk. Without the 800 Degrees tie-in, Piestro's appeal simply would not be as great. I don't think the risk is significant. But to some degree, Piestro's valuation assumes the 800 Degrees commercial arrangement will proceed as planned. The company is probably right. But I've seen some big deals fall apart at the 11th hour in completely unexpected ways. In the case of 800 Degrees, the company may not be able to generate the business that would warrant the purchase of so many robots. The risk is real and needs to be noted. 
The other risks revolve around the final stages of product development. Delays on the way to commercialization are always possible. While not an existential threat, they could create budgetary concerns and raise doubts — especially among its three major partners — as to the viability of the pizza-making robots. 
The robots will have to be built, and production (if all goes as expected) will have to increase fairly rapidly. These needs require a high level of planning and execution. Until the company proves it's up to the task, it's another area where risk cannot be ignored. 
But Piestro will gladly accept that risk. Because it would mean that the company was on its way to fulfilling a multi-thousand robot order. As problems go, that's a good one to have. 
If things go as planned, CEO Massimo Noja De Marco could call me in a year to say that Piestro's first manufacturing run of 100 robots is complete and it's about to start a new run of 500 robots. 
Getting from here to there is not a giant leap, especially with Massimo leading the charge. He founded Kitchen United and worked alongside renowned chef and restaurateur Wolfgang Puck. He's experienced entrepreneurial success. He knows what it feels like… and what it takes to get there.
The robot's final tweaks are coming soon. But the challenges never end. With the next stage comes a new set of challenges of delivering product at scale to customers. At that point, Piestro will be knocking at the door of success.
---
Deal Details
Startup: Piestro
Security type: Common equity
Price per share: $10.39
Valuation: $80 million
Minimum investment: $997.44
Where to invest: WAX
Deadline: July 28, 2022
---
How to Invest
Piestro is raising up to $20 million on WAX. If you don't already have a WAX account, you can sign up for one here. 
In order to invest, visit the Piestro deal page and look over all the information presented. It is highly recommended that you also read the company's Offering Circular. It will contain useful details not found on the company's raise page. 
If you're ready to invest, click the pink "Invest" button. Enter the amount you want to invest, starting as low as $997.44, and proceed through the required steps. Be sure your investment is confirmed, then you're good to go.
Risks
This opportunity, like all early-stage investments, is risky. Early-stage investments often fail. Piestro will likely need to raise another round of funding in a year or two, if not sooner.
If it executes well, this shouldn't be a problem. But that's a risk worth considering when investing in early-stage companies. The investment you're making is NOT liquid. 
Expect to hold your position for five to 10 years. An earlier exit is always possible but should not be expected.
All that said, I believe Piestro offers an attractive risk-reward ratio.