The first Ford car was sold on July 23, 1903 — a little before my time. Over the years, cars and trucks have become faster, sleeker and safer. But the vehicle my grandfather drove in the 1920s… the one my father drove in the 1940s… and what I drove when I finally got my driver's license (first time around I failed!) in the 1960s were basically the same. 
Then — about 25 years ago — a series of technology upgrades brought vehicles into the 21st century. We may not have flying cars yet (much to my chagrin), but we can now drive battery-powered and electric cars and trucks. In the very near future, we will also have self-driving vehicles that are connected to the internet as well as to each other.
I don't know about you, but I'm ready for a break. I mean, what else is there that needs to be changed? That is causing avoidable harm? That can be fixed with today's technology?
Well, there is something. 
And it's a lot older than the car… 
It's the wheel. 
Reinventing the Wheel
Really? Reinventing the wheel? At first blush, it seems to be the quintessential example of redundancy. But the wheels we use on cars and other vehicles suffer from a huge problem. They're made from rubber. And rubber tires are extremely harmful to the environment. 
A recent study estimates that rubber tires account for as much as 10% of all microplastic waste in the world's oceans. Another study says 28%.
Rubber tires need to go. And the sooner the better. Governments are beginning to impose requirements on how rubber tires are disposed of. 
While a step in the right direction, it's not nearly good enough. 
The only real long-term solution is getting rid of rubber tires altogether. And the first industry that has the most to gain from switching to non-rubber tires is mining. 
Thanks to one innovative startup — Global Air Cylinder Wheels (GACW) — it's happening right now. Its airless wheels are made almost entirely of steel. An inner steel hub is connected to an outer steel drum via nitrogen-filled cylinders and oil dampers for suspension. The outer drum is then covered with segments of polyurethane or steel treads (in the future, other biodegradable materials will be used to make the treads). These tread segments can be replaced as needed while the rest of the wheel remains intact. This makes maintenance much faster (and more environmentally friendly) than replacing or fixing rubber tires.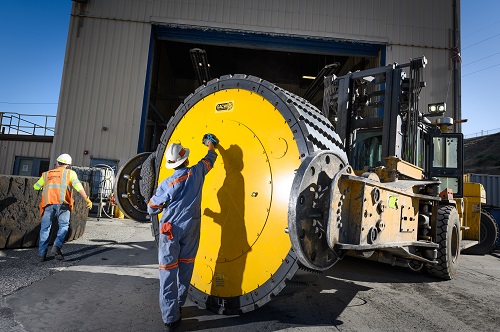 The global tire market is huge — $248 billion (and still growing). And the global market for off-the-road (OTR) tires is $32 billion — still a very big market unto itself.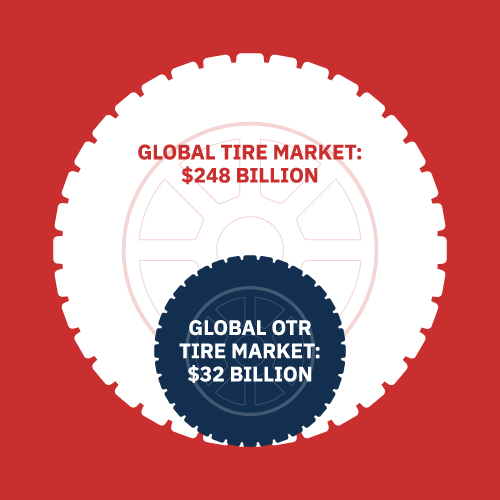 I think all cars will have airless tires. Eventually. 
But for the mining industry, airless tires are a must right now. Which is exactly why GACW has been testing its technology with mining companies for more than five years.
Patching Up Tires' Many Problems
Tires are the largest expense in the mining industry along with payroll and fuel. That might sound crazy at first. But mining vehicles are massive. And they're often moving in extremely rough and rocky terrain. These vehicles need huge, tough and resilient tires. Traditional rubber tires can't handle the wear and tear without frequent maintenance and repair. And they still need to be replaced often. Which is costly. 
GACW's wheels offer immediate relief to a mining company's bottom line. Its wheels can be leased and even treated as a capital asset on a company's balance sheet. And at the end of their life span, they can be recycled!
The benefits go way beyond that, though. While traditional OTR mining tires last about six to nine months, GACW's wheels are engineered to last for the entire life span of the vehicle itself (about 20 years). That means fewer replacements, less maintenance and less rubber waste. In addition to serving as an eco-friendly alternative, they also have reduced rolling resistance (which saves fuel and consequently reduces greenhouse gas emissions) and increased payload capacity. And they're safer than rubber tires too.
They're also the most ready alternative to rubber tires in the mining industry. Other companies making OTR tires include traditional brand name competitors like Goodyear and Michelin, as well as lesser known competitors like Titan International and RIMEX. But even if you include intriguing startups like The SMART Tire Company and SoftWheel, GACW's technology remains the most market-ready alternative to traditional tires. And it's the only one suitable for large OTR wheels (the others can't be scaled up effectively).
GACW's business model relies on retrofitting any company's current fleet of vehicles with its wheels. Retrofitting allows GACW's technology to be adopted rapidly across numerous fleets of vehicles.
Ready for Serious Traction
The mining industry certainly finds GACW's competitive advantages compelling. GACW had no trouble finding several large companies to test its wheels. These partnerships have generated successful results, which is laying the groundwork for positive traction. The company recently signed three purchase orders with many more in the pipeline. 
I believe GACW is on the verge of serious revenue generation. Its current $40 million valuation may seem rich for a company with limited revenue. But investors should keep two things in mind:
Hardware startups take longer than most other types of startups to initiate meaningful traction.

If — as I believe — GACW is on the precipice of serious revenue generation, now is the best time to invest. Investing just before a company starts hockey stick growth means you're more likely to see magnified returns. 
GACW's current raise may be investors' last chance to get in at such a favorable valuation. 
A Winning Team
That doesn't mean that investing at such an early stage is not risky. For example, execution is key. And since GACW is just transitioning from product development to revenue generation, it represents a noteworthy risk. 
With that said, it's hard to find fault with GACW's two-person founding team. As an inventor and entrepreneur, CEO/CTO Zoltan Kemeny has done it all and seen it all. He has more than 250 patents (written or co-written) to his name. He's achieved several exits — some of them very big. Holding both the CEO and CTO positions would perhaps pose a challenge to most startup executives, but I doubt Zoltan is fazed in the least. 
It also helps that he's working alongside Harmen van Kamp. Harmen is younger and offers the perfect set of complementary skills. He's worked in commercial roles in various sectors, including heavy machinery, agricultural technology and, importantly, mining. 
Harmen is the Robin to Zoltan's Batman. They make an ideal team. Together with Senior Engineer Morten Jensen, they've done a great job of bringing a complex and groundbreaking technology to commercialization. Scaling will be their next big challenge. I have no reason to believe they won't be up to the task. 
Enticing Upside
Mining is notorious for being a boom and bust industry. During severe busts, mining projects are shut down and the weaker mining companies go out of business. But investors needn't worry too much. Busts also drive cost-saving behavior. GACW's wheels should enjoy even greater popularity if times get tough. 
With mining alone, GACW's upside is enticing. But when you add other use cases — such as construction, agriculture, forestry, bicycles, wheelchairs and armored vehicles — its upside goes from enticing to off the charts. 
And from there, the last and biggest prize is within sight — the gigantic consumer car and truck space. If it can become a major player in this space — a big "if" at this still early point — the upside would be insane.
The journey won't be easy. Putting a completely reimagined wheel into the economy was never going to be an overnight success. But solving one of the biggest environmental and expensive problems facing the mining industry gives GACW the perfect launching pad to an exciting future. 
---
Deal Details
Startup: Global Air Cylinder Wheels (GACW)
Security type: Common shares
Offering Maximum: $1.64 Million
Valuation: $40 million
Price per share: $2.24
Minimum investment: $248.64
Where to invest: StartEngine
Deadline: October 24, 2022
---
How to Invest
GACW is raising capital on StartEngine. To get started, visit the GACW raise page. Be sure to review the deal page and offering documents thoroughly before making an investment. When you're ready, click the green "invest now" button. Enter in the amount you want to invest, starting as low as $248.64, and then move through the required steps. Make sure that your investment is confirmed, and then you're good to go.
Risk
Startup investing is inherently risky, and startup investors should expect to hold their investments without liquidity for five to 10 years. Never invest more money than you can afford to lose.