Note: This recommendation was co-authored by KingsCrowd Investment Research Associate Inez Sanjaya.
---
The first time I learned that mammograms were incredibly painful was the first time Cecily got one after we got married. I guess this is something mothers don't tell their sons but expound at length to their daughters about. I was clueless (not the first time, Cecily insists, and not the last). 
So when she described the process to me, I was genuinely horrified. Man, it sounded bad. Even back then, as a callow young man, I thought to myself, "Is this the best we can do?" 
Evidently, it was. Because every year since that first one, when the day of her mammogram exam arrived, she would note the occasion to me. "Here we go again. I hate it." 
But she kept going back… and with good reason. In the U.S., breast cancer is the most diagnosed cancer in women. And catching it late is akin to a death sentence. Once it reaches stage 4, the survival rate is an astonishingly low 22%. Mammograms are still the best method we have for early detection.
I suspect most women know this and most men don't. Well, at least I didn't. (Cecily is right — still clueless.) And yet, more than half of women who are 40 years and older don't get mammograms. That's simply unacceptable.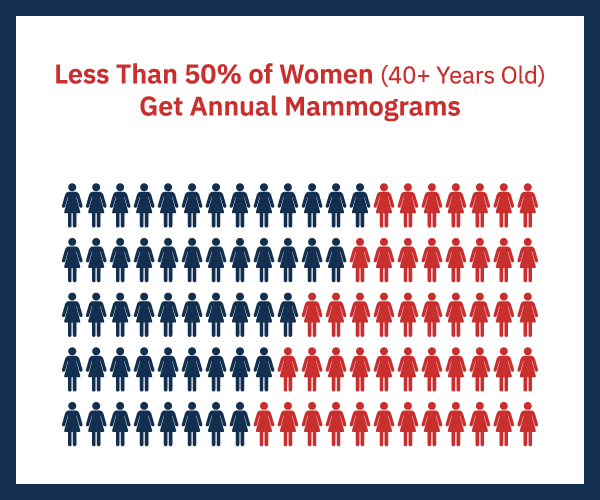 Once again, 40 years later, I find myself asking the same question. Is this the best we can do?
The answer — thanks to a tiny company called Koning — is a resounding "no."
Koning provides an extremely quick and painless imaging experience. It takes a mere seven seconds. You're lying down. And you're unencumbered. The difference is night and day from your typical mammogram endurance test.  
That's just half of the solution Koning offers. The other half is just as important. Its 3D imaging technology is appreciably more accurate than mammograms. Mammograms detect on average three to four breast cancers per 1,000 exams while preliminary research suggests  that Koning's technology may be able to detect up to 20 to 24 per 1,000. Koning's technology should lead to much better health outcomes.
Among other things, this means that Koning's machines can reliably detect stage 0 and stage 1 cancers. Just how significant is this? Detecting breast cancer at stages 0 or 1 gives patients a 99% five-year survival rate. Its imaging technology can also detect small calcifications and small tumors in patients with small or dense breasts — something current mammograms struggle with. Calcifications, by the way, are often an early indicator of breast disease.
This changes the game. Mammography has ruled the industry for 60 years. While flawed, it was — for its time — the best technology available. That's no longer the case. 
Koning's technology is far superior. And for all the reasons I've just enumerated, it should be considered paradigm shifting. Bettering the patient experience and providing much better health outcomes — including saving lives — is one heck of a combination.
But even transformative technology that solves a big health problem doesn't necessarily sell itself — especially when it comes to healthcare in the U.S. Koning has set its sights on cornering the breast care market. That's ambitious. 
For investors, it's worth noting that this ambition elevates the upside. But it also comes with risks. What's Koning's plan? Once again — as it did with its technology — Koning is thinking outside the box.
Enormous Potential Winnings
In the first stage of its go-to-market strategy, Koning will target clinics, primary care physician offices and drug stores — including Walmart Health, Walgreens, CVS and Target. Right now, the company is charging customers $600,000 to buy its machine. But customers never pay all the money upfront. Instead, they pay a monthly leasing fee. And with just 15 to 20 patients daily, customers can make 8.6X their monthly leasing costs. 
Phase 2 of Koning's marketing plans is when things get interesting. That's when the startup will offer customers free machines and only collect money when a procedure happens. This "pay per click" model (a variation of the "razor blade" model) allows for revenue to be shared between Koning, radiologists, and the retail location owner (i.e. the clinics, drug stores, etc).  
Koning expects it will unleash a huge stream of revenue. 
A free machine should accelerate market adoption. And everybody benefits. Clinics pay nothing upfront. They start making a nice profit from the patient onward. Koning makes $150 for every procedure performed. That's a 43% margin on an average fee per procedure of $350 (with this amount covered by insurance). Assuming 15 to 20 patients per day, it should take only two to three months for one of Koning's third generation machines — which should be launched later this year — to be fully paid off.
Koning's current business model is fine. But this new one is better. Customers will have a tough time saying no to a free machine that brings in substantial daily revenue.
Aside from its four U.S. locations, Koning has established a global presence. Its machines operate in 20 locations outside the U.S. What's more, it has signed 35 to 40 distributors from other countries. 
Of all these places, Asia looms largest in importance and potential. First of all, Asian women have smaller breasts on average. I've already pointed out how difficult it is for mammograms to detect small tumors in women with small and/or dense breasts. Koning will bring improved health results to this market. And clinics in Asia should generate more revenue per machine than clinics in the U.S. because they screen significantly more patients in a day. 
All in all, Koning's business model has the potential to capture a big piece of the market not only in the U.S., but also in Asia and other global markets.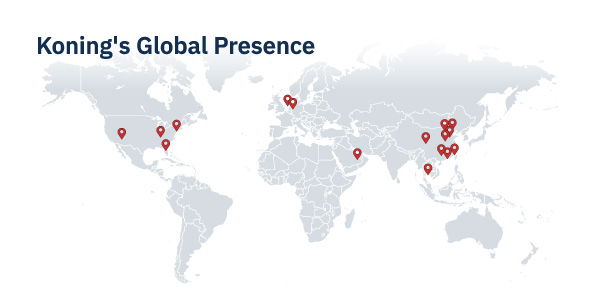 Strong Barriers Shield Koning From Competitive Threats
Koning's breast imaging device has obvious unfair advantages over the current, (soon-to-be) fast-fading, breast screening technologies — not only mammograms but also magnetic resonance imaging (MRI) and thermography. 
Legacy technologies should offer little resistance to Koning's far superior technology. And future (yet undeveloped) technologies would face numerous obstacles trying to catch up to Koning's tech. One is the time it takes to develop a new technology that could possibly compete with Koning's. Koning spent more than 15 years getting this device ready for commercial use. 
Just like many other companies in the healthcare industry, the company also had to win FDA approval. Koning was forced to get the highest level of FDA approval: the premarket approval (PMA). It wasn't easy.
PMA is required for Class III medical devices. These are devices that "usually sustain or support life, are implanted, or present potential unreasonable risk of illness or injury." The next four competitors with similar products would need to go through the same approval process — a process that took Koning 3.5 years to complete. Maybe it's better to be fifth in line and get approval much faster. Or maybe not. That could be a 10-year or longer wait just to begin the process. 
Any way you slice it, Koning has a huge head start on any new players entering the market. And to further discourage these other upstarts from taking shortcuts, Koning has amassed 120 patents with six more pending. 
One thing is certain: Investors don't have to worry about Koning's product defensibility. 
Scaling a Mountain of Supply Side Risks
The fly in Koning's ointment is supply chain issues. It's the one thing that could derail Koning's ability to scale. And it looks like the chip shortage isn't going away anytime soon. 
This is serious. Because of supply chain shortages, the team can manufacture only six to eight machines a year. It has an order backlog of 26 machines that it can't even halfway meet in the next 12 months. Besides leaving significant money on the table, there is a real risk that Koning might not be able to keep up with the increasing orders it expects from dozens of clinics that have already adopted its technology. 
This is a real risk. Investors shouldn't shrug it off. But I hold major respect for the company's experienced leadership. I fully expect Koning to find ways to mitigate this risk. 
CEO Lutao Ning was a principal at Boston Consulting Group for more than a decade. His father, Ruola Ning, is Koning's founder. And Ruola has highly relevant experience. As a professor at the University of Rochester (for only 33 years!), he specialized in imaging science.
Another notable team member is President David Georges, who has a strong background in sales. He's held several executive positions in imaging science companies specializing in breast imaging. 
I'd be surprised if this team can vanquish the supply chain completely. It will likely continue to complicate Koning's manufacturing schedules, and — at least temporarily — slow down the company's growth. 
But Koning is not the only company grappling with supply chain issues. This is a worldwide issue. In the short term, it's worrisome. In the long term, I give it much less weight. Koning should have ample opportunity to execute on its growth plan in order to realize its sizable upside. 
Why I Love Three-Legged Stool Opportunities
There's nothing I like better than a company standing tall on three legs. Bringing a game-changing product to market is one sturdy leg. Developing a business model that customers should flock to is another strong leg. We've talked about these two already. But there's a third leg I haven't mentioned yet. 
It's timing. 
A great product backed by a great team can still fail to take off if the company's timing is off. That's not the case with Koning. Its timing is excellent. The U.S. breast imaging market is preparing for liftoff, with six new dedicated CT CPT (current procedural terminology) codes approved in 2020. By providing expanded reimbursement to private and public payers, Koning is both preparing for the anticipated increase in demand for breast CT and helping to pave the way. 
Our timing as investors is also excellent. We get to see (for the first time, really) all the pieces in place to drive revenue. Which is why Koning is raising at a $230 million valuation. It sounds high. But when you take into account the 15 years that went into product development… the 3.5 years it took to get FDA approval… and Koning's stunningly high upside, it really isn't. 
The company has already raised $55 million. And the risk for those investors was much higher. I like our timing now. The risks are much lower and serious revenue is just around the corner. 
The best time to invest is now.  
---
Deal Details
Startup: Koning
Security type: Common shares
Offering maximum: $2.9 million
Valuation: $230 million
Price per share: $5.69
Minimum investment: $489.34
Where to invest: StartEngine
Deadline: October 31, 2022
---
How to Invest
Koning is raising capital on StartEngine. To get started, visit the Koning raise page. Be sure to review the deal page and offering documents thoroughly before making an investment. When you're ready, click the green "invest now" button. Enter in the amount you want to invest, starting as low as $489.34, and then move through the required steps. Make sure that your investment is confirmed, and then you're good to go.
Risk
Startup investing is inherently risky, and startup investors should expect to hold their investments without liquidity for five to 10 years. Never invest more money than you can afford to lose.
---